Preface
Do you have strong communication skills? Can you handle the problems like a cakewalk? Do you have the potential to develop software? You can aim to pursue a career as a successful SAP Consultant. An SAP Consultant provides solutions for business-related issues which is quite challenging and diverse. We will go through how to step into the career of an SAP Consultant in this blog.
SAP involves software development for the business process and sets forth solutions to facilitate effective cleansing and flow of information across the organizations. It stands for System Analysis Program Development. It has established a global standard for Enterprise Resource Planning (ERP) to take to the next level. SAP will enumerate the vast amount of data and aid advanced technologies.
SAP helps to obtain data and information by centralizing the data management. It is very easy to co-ordinate with other departments and branches. It avoids replication of data, and eliminates the risk of errors, and reduces IT storage costs
SAP facilitates the management of complex business processes. It can expedite workflows, increase productivity, expand operational efficiency, and boost the profits of the company.
SAP Consultant
An SAP Consultant is a person who designs and analyzes planned configurations to deliver based on the organizational needs or client requirements. They build customized SAP solutions to blend with existing software to facilitate efficiency in various domains like human resources, finance, operations, customer support, etc
SAP consultants are mostly employed by companies or even work as freelancers. IT can be for a specific duration or one-time consultation to meet the requirements. An SAP Consultant is responsible to teach, train, and implement the system as required.
Types of SAP Consultants
SAP Program provides a wide range of opportunities in many industries depending on specialization done by the employee. The various types of SAP Consultants are SAP Basis Consultant, SAP Business Consultant, SAP Technical Consultant, and SAP Functional Consultants.
SAP Basis Consultant – The SAP basis consultant provides up-gradation or installation of SAP software, add more components, change parameters, check system performance, error analysis, workload analysis, etc
SAP Business Consultant- The role of SAP Business Consultants is to generate ideas, implement projects, identify the client requirements, and formulate strategies for the growth of the organizations. They are responsible for the smooth functioning of the organizations.
SAP Technical Consultant – The SAP technical consultants work towards the development of SAP systems through various coding programs like ABAP and JAVA.
SAP Functional Consultant – The SAP functional consultants are involved in the customization of various SAP modules like – PP, MM, FICO, QM, etc
Career prospects for an SAP Consultant
Sales

Marketing

Human Resources

Finance

Executive and Management

Development and Technology

Consultancy

Customer Support

Corporate Operations

University

Cyber Security
Roles of an SAP consultant
Senior Account Executive

Business Analyst

System Engineer

Application Programmer

Software Engineer

Linux Programmer

OBIEE consultant

Cloud Architects

Data Scientists

Oracle Developer

SQL Programmer

Mobile Engineers

Server Administrator

Cyber Security professionals
Skills required for an SAP Consultant
In-depth knowledge in SAP modules

Domain Knowledge

Good communication skills

Presentation Skills

Time Management Skills

Team building

Leadership qualities
SAP course
SAP combines the instructions in database management, business training, and human resource software management. The SAP certification can be done as a stand-alone course or part of any degree. SAP is about Data Management Programs and Enterprise Resource Planning.
Benefits of doing the SAP course
SAP-certified candidates will be able to design input screens, access data tables, and create information warehouses. SAP creates a lot of job opportunities with a higher package and it motivates to enhance the talents. It helps to perform better after getting certified where the chances of getting a promotion are high.
Scope of doing the SAP Consultant Course
Build a strong career by getting certified in SAP course

Become a full-time employee or a highly paid freelancer of any reputed organization

Higher salary paid

Get hired by top MNCs and other brands which constitutes 40% of the job market

Better job security

Promotion in the current job with most desirable skills

Boost CV and LinkedIn profile with the additional skillset
Prerequisites to learn SAP
Graduates or Postgraduates in any stream.

For technical modules, it is mandatory to have a degree in Computer Science.

Working professionals who want to switch their domain or enhance the skills set

Executives/Generalists
Top 3 institutes of SAP Consultant Course
Let's explore the top 3 institutes which provide the best platform to learn SAP course
Henry Harvin is a platform that offers many professional and technical courses across the globe. It is ranked among the Top 500 Global Edtech Companies. It has a customer base in 97+ countries
Henry Harvin SAP Trainings Academy has been operating with the objective to upgrade the latest technology. It will help to manage the workforce along with the demand on Oracle and ERP skills sets. Henry provides the best platform to get certified as SAP Consultant. They provide training for more than 20 categories in SAP.
These skills are imparted to the learners with the help of subject matter experts who have immense knowledge and industry experience. Their uniques Goal Centric Pedagogy are used to create learning solutions. This will help to create SAP Consultants with full potential.
Key Features
Live online training
Projects
Internship assistance
The government of India recognized certification
100% placement assistance
E-learning access
Moodle App access
Bootcamps
Hackathons
1 year Gold membership
Address: B-12, Sector 6, Noida 201301
Working hours: 8 am-10 pm
Contact No: +91 9015266266
SAP Training in other cities
Agra, Ahmedabad, Allahabad, Bangalore, Bhopal, Bhubaneshwar, Chandigarh, Chennai, Cochin, Coimbatore, Ernakulam, Faridabad, Gurgaon, Hyderabad, Indore, Jaipur, Kanpur, Kolkata, Lucknow, Mumbai, Mysore, Nagpur, Noida, Online, Patna, Pune, Surat, Vishakapatnam.
2. Delphi Computech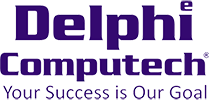 Delphi Computech is awarded as "Best SAP Education Partner" in India and abroad consistently. It has experience of more than 21 years. Delphi Computech has trained 20,000+ professionals so far and has 1000+ recruiting partners.
Delphi is providing SAP training on various modules. They give more practical training which helps to meet the professional needs of the learners.
Current Offerings
SAP Functional Modules
SAP Technical Modules
SAP Business Suite Applications
SAP Training services at colleges and corporates
SAP Consulting & Supporting Services
SAP Resourcing
Address: 201A, Indira Building, Next to Titan Showroom, Bhandarkar Road, Pune – 411004
Working hours: 9 am-6 pm
Contact No: +91 7030055119
SAP Training in other cities
Mumbai, Indore, Bangalore, Jakarta
3. ATOS India

ATOS India provides quality education for SAP career aspirants for the last 20 years. It is the authorized SAP education center in India. They offer Virtual Love Classroom, Instructor-Led Training, Online Training Program, and Learning Hub for consultants.
They provide training for individuals, corporates, and education institutes. The placement ratio is high and has 4 SAP knowledge hubs in India
Address: Salarpuria House, 2nd Floor, #496, CMH Road, Bengaluru – 560038
Working hours: 9 am-3 pm
Contact No: +91 9243166026
SAP Training in other cities
Mumbai, Chennai, Pune
Top Colleges For SAP Course
IIEBM Indus Business School, Pune
AIMS Institute of Management, Pune
Victoria University, Ahmedabad
Lithan Genvote, Mumbai
Tirupati Institute of Management, Pune
St. Anthony's College, Shillong
SAP Modules
There are 25 modules in SAP. All modules are not practically applied. The important modules successfully implemented and created job opportunities are mentioned below.
1.
SAP S/4HANA (High-Performance Analytic Appliance)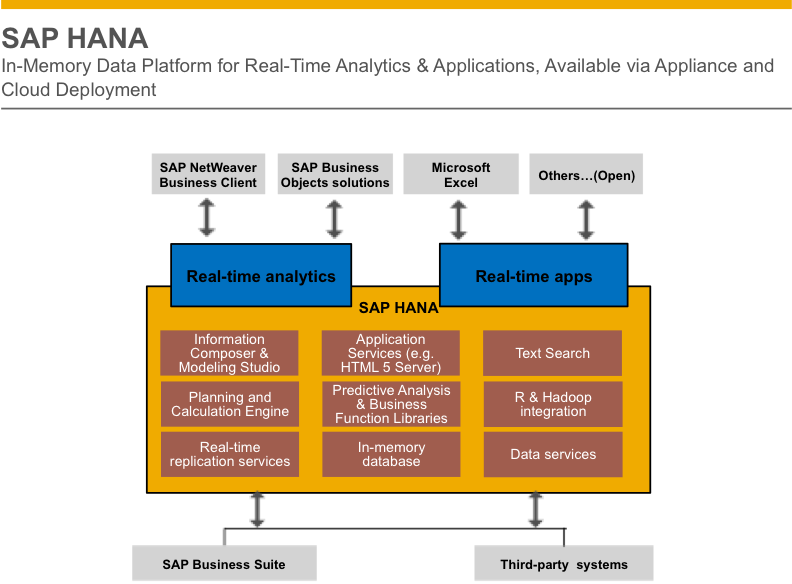 SAP S/4 HANA is an ERP system with in-built technical systems like Machine Learning, Artificial Intelligence, and Advanced Analytics. It helps the organizations to initiate new business models, adapt to changes, regulate internal and external resources, and use AI. Three options are available like On-premise, Cloud (managed and public), and Hybrid Deployments to give ideal choice to the customers.
The SAP editions are integrated and work in semantic data. It allows to recreate business models, drive revenues and profits, connect with customers, access Big Data and the Internet of Things, simplify the process and support instant decision making. It reduces the cost and saves time.
Key features
Reduce Data Footprint

Higher throughput

Unlimited Workload Capacity

All Data: Social, Geo, Graph, Text, Processing

NEW SAP Fiori UX for mobile, tablet, and desktop

Three deployment options- Public Cloud, Managed Cloud, On-premise.

Faster Analytics and Reporting

HANA Multi-Tenancy

ERP, SCM, SRM, PLM, CRMco deployed
2.
SAP FICO (Financial Accounting and Controlling)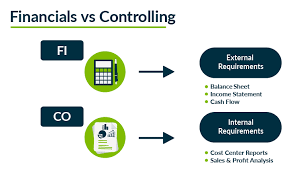 SAP EEC FI records organizations' financial transactions. SAP FI includes the transactions with both the vendors and customers. FI handles payables, receivables, cash management, bank payments, and reconciliation process.
SAP FI ensures the maintenance of financial accounting data with an international framework of multiple currencies and companies. The sub-modules are General Ledger, Special Purpose Ledger, Accounts Receivable, Accounts payable, Bank Ledger, Consolidation, Funds Management, Asset Accounting, and Travel Management.
SAP CO involves in monitoring the costs of the business operations. It helps to improve profitability. The sub-modules of SAP CO are Cost Elements, Cost Centers, Profit Centers, Internal Orders, Profitability Analysis, and Product Costing.
3.
SAP SCM (Supply Chain Management)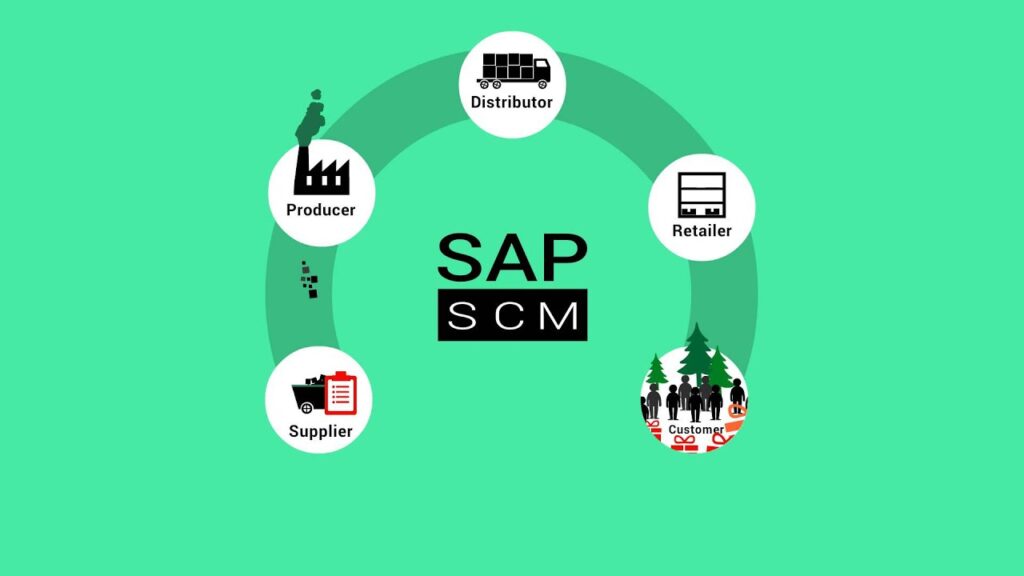 SAP SCM is one of the modules of SAP ERP which helps customers, suppliers, manufactures, retailers, and business partners to manage the process of the supply chain efficiently. It is a complete software to cover the major processes like Supply Chain Networking, Supply Chain Planning & Coordination, and Supply Chain Execution.
It is the centralized management of the flow of goods and services from the production process to consumption. This process helps to cut the excess costs and fast delivery of goods to customers.
An SAP SCM Consultant will be involved in the implementation of projects and solutions as per the customer requirements. SAP SCM EWM Extended Warehouse Management, APO, Material Management, and Production Planning is the sub-modules of the SAP SCM
4.
SAP HCM (Human Capital Management)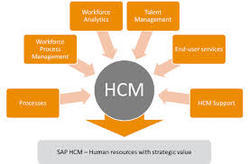 SAP HCM constitutes HR-related activities. It comprises payroll, employee records, career development, and safety at the workplace. SAP HCM has sub-modules to ensure the organization runs smoothly.
It facilitates an automated record-keeping system and ideal framework for administration and payroll documents. It consists of 5 modules. They are Organizational Management, Personnel Administration, Time Management, Payroll Management, and Travel Management.
Organizational Management focuses on the organizational plan and its analysis. Personnel Management records the employee-related information. Time management records the attendance, shifts, time evaluation, etc of the employees. Payroll Management represents the payment process of the employees. Travel Management Includes the management of travel expenses, managing official trips, etc.
5.
SAP BI (Business Intelligence)
SAP Business Intelligence means scrutiny of and reporting data from different varied data sources. It collates the data, transforms and consolidates, and stores it in the proper place. SAP BI includes data modeling, administrations, and staging area. It provides a useful form of representations of data which is very helpful in analysis and providing solutions to business-related problems.
The BI provides functions and infrastructure inclusive of OLAP Processor, Metadata Repository, Process designer, and other functions. It is easy to use GUI and has better formatting.
The key function is to analyze the information from heterogeneous data sources in MS office and Web environments, Flexible dashboards, Scalable, and mobility BI platforms. It is well-known for query performance, Mobile BI, and Easy integration.
6.
SAP MM (Materials Management)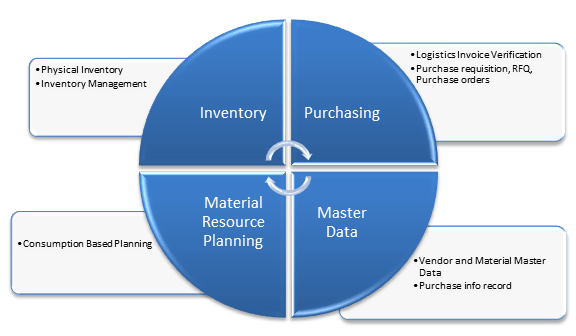 SAP Materials Management covers all aspects of the supply chain including production planning, purchasing, invoice verification, vendor evaluation, inventory management, and warehouse management. It reduces costs and minimizes inventory losses. These activities will be mechanized to ensure the effective and smooth process of materials management.
SAP MM is mainly used in manufacturing and other organizations irrespective of size for the effective management of logistics. Material Management ensures the ideal supply of materials without any gaps in the supply chain process. It supports the day-to-day operations of inventory management.
Being a part of logistics, SAP MM ensures the effectiveness of supply chain processes. It helps to improve adaptability for variations and reduce costs.
SAP MM has a good demand and future in India. The technology is highly predominant in the market and will grow considerably. This module has become one of the basic modules of many organizations.
7.
SAP PP (Production Planning)
SAP PP module helps the business to plan the manufacturing of products to facilitate the demand and supply. This module enables the alignment of manufacturing capacity. SAP PP plays an important role in the supply chain by using the combination of methods of manufacturing products.
SAP PP includes materials planning, billing, routings, and capacity planning. It works on the basis of master data which creates the transactional data in SAP to perform various tasks.
The sub-modules under SAP PP are Sales and Operations Planning, Long- Term Planning, Data Management, Master Production Schedule/Material Requirements Planning, Capacity Requirements Planning, Shop Floor Control, and Information Systems.
8.
SAP SD (Sales and Distribution)
The SAP SD focuses on Sales and Distribution. SAP SD includes the selling of national and international products and services. It is through direct selling or through distribution networks. SAP SD deals with returns with credit issuance and billing.
SAP SD focuses on storing and managing product and customer-related data. It manages various tasks related to sales orders, shipping, billing, and invoicing of their goods and services. This module is closely related to SAP MM and SAP PP.
The major sub-modules of SAP SD are Customer and Vendor Master Data, Pricing, Billing, Sales, Delivery, and Credit Management. It helps to find and check every minute detail of each and every sale that takes place. It facilitates the management of foreign trade data and evaluates the team's performance.
9.
SAP QM (Quality Management)
The SAP QM deals with the process of procurement, production, sales, and maintenance process. SAP QM helps to manage internal and audit processes. It guides to finding the reason for the failure of a product or process and ensures quality in the ongoing activities of the organization.
SAP QM facilitates the monitoring of customer and vendor complaints by executing corrective measures. The automated quality certificates will be delivered to the customers. It prepares many reports regarding various defects and their frequency.
The SAP QM is integrated with SAP Materials Management, SAP Plant Maintenance, and SAP Production Planning. It covers the three major areas like Planning, Notifications, and Inspections.
10.
SAP CRM (Customer Relationship Management)
SAP Customer Relationship Management is used by many organizations. It focuses on the optimization of customer interactions. of It helps how to stay connected with customers effectively. It enables to meet the need of the customers from the products or services. The customer will get proper information through a channel where they can contact the company.
The modules which is closely related are SAP Customer Relationship Management, SAP Product Lifecycle Management, Supply Chain Management, Supplier Relationship Management, and Enterprise Resource Planning.
It supports the major areas like Sales, Marketing and Services which are customer focussed. The different interaction channels are Interaction Centre, Internet, and Mobile Clients.
11.
SAP ABAP (Advanced Business Application Management)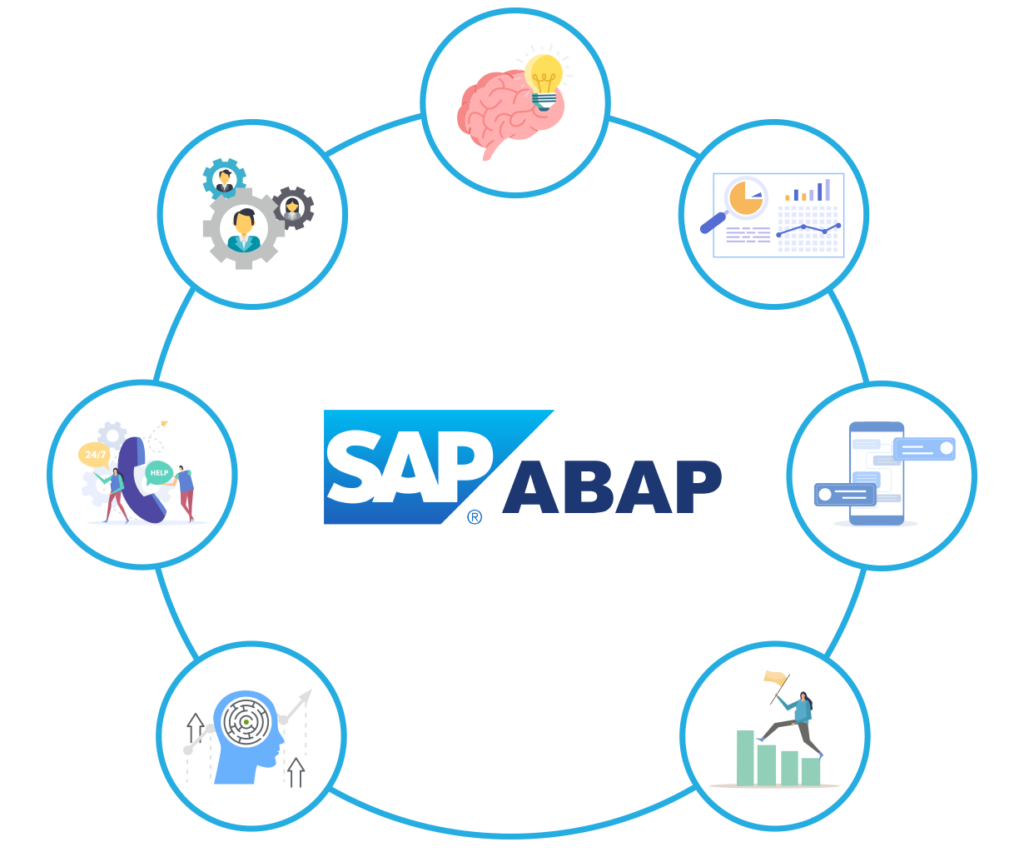 SAP Advanced Business Application Management runs with help of the programming language ABAP. It developed along with application programs like Forms, Reports, Data Conversions, Interfaces, Module Pool Programming, and User Exits & BADI.
SAP ABAP focuses on the customization of SAP ERP platforms and workflows like asset management, materials management, and more. It helps to solve the challenges in data overflow and time-consuming processes.
The other name for ABAP is ABAP/4. 4 stands for "Fourth Generation Language. The workbench used in SAP is ABAP Dictionary, ABAP Editor, Menu Painter, Screen Painter, Repository Browser, Test and Analysis Tools, Repository Information System, Data Modeler, Function Builder, and Workbench Organizer.
Key features
Logical Database COnnections

Open SQL

Internal Tables

Security

Data Dictionary

Change and Transport System (CTS)

Shared Development System
12.
SAP XI (Exchange Infrastructure)
SAP Exchange Infrastructure focuses on the implementation of the cross-component integration process. Sap XI helps to connect with bot SAP and Non SAp vendors in varied versions and executed in various programming languages like JAVA, ABAP, etc to each other. SAP XI is based on open architecture and uses standards from XML and Java Environments.
It is used for the integration of internal and external systems and back-end environments. It ensures modeled message parsing between different platforms.
Key features
Transformations, cross-component integration process and Modeling and designing of messages

Runtime for message and process management

Options for Configuration and managing collective processes and message flow

Adaptor Engine for integrating varied system components

Central monitoring for message processes and flows
13.
SAP NetWeaver
SAP NetWeaver is an integrated technology for all SAP products. It helps to access SAP Data using the simple HTTP protocol or even from a mobile. There is no requirement for installation in SAP client-side software.
The core element of SAP NetWeaver is People Integration, Information Integration, Process Integration, and Application Platform. It utilizes the open standards to collaborate with applications and information from any technology or source. It is the foundation of SAP Business by Design and SAP Business Suite.
The major components of SAP NetWeaver are Application Server, Business Warehouse, Gateway, Master Data Management, Process Orchestration, Portal, Infrastructure, Identity Management, Information Lifecycle Management, Tools, and Applications.
14.
SAP BW (Business Warehouse)
SAP Business Warehouse is a data warehousing product associated with SAP NetWeaver and SAP ABAP platforms. It integrates, transforms, and consolidates the relevant information from existing SAP applications and other external data sources. It facilitates decision-making and helps identify target-oriented activities based on analyzed data.
The functional areas of SAP BW are Data Warehousing, Analytic Engine, SAP Business Explorer, Generic Tools and Services, Interfaces, and Using the SAP HANA Database. To enhance the performance, in-memory technologies are used.
15.
SAP BASIS (Business Application Software Integrated Solution)
SAP Business Application Software Integrated Solution is a set of tools and programs which acts as an interface with Operating System, Database, Communication Protocols, and Business Applications like MM, Fl, CO, etc. The other name for SAP BASIS is SAP Application Server Technology
BASIS works along with databases like Oracle, Microsoft SQL Server, Informix, DB2, MaxDB, etc, and operating systems like Unix flavors, z/OS, AS400, Microsoft windows server edition, etc.
Top Recruiters
SAP is one of the best job-oriented courses. Many companies including MNCs recruit SAP consultants to perform various functions. Some of them are
Accenture

Barclays

Cognizant

ITC Infotech

Tata Consultancy Services

Wipro

Genpact

Mindtree

IBM Business Consulting Services

Control Solutions International

Deloitte

Ai-Bots Technologies LLP

Hewlett- Packard

Bloomberg L.P

Advent Global Solutions
Salary
The salary of the SAP Consultants depends on certification and experience. It ranges on an average between Rs. 5 lakhs to 37.7 lakhs.
Books
Along with the SAP training, it is very important to build skills through self-learning to keep updated. The below mentioned are the important books which guide to enhance the knowledge in SAP
SAP MM- Functionality and Technical Configuration written by Martin Murray

SAP Cloud Platform Integration: The Comprehensive Guide written by Peter Gutsche, et.al

Data Modeling for SAP HANA 2.0 written by Anil Bavaraju

SAP Analytics Cloud was written by Abassin Sidiq
Conclusion
SAP Consultant is a good career option for a longer time. SAP is widely used in many business organizations at various levels. Along with certification, an employee should be very dedicated and hardworking to achieve a fulfilling career as an SAP consultant.
To become a successful SAP consultant, a person should be very passionate about his career in SAP. The basics should be strong without any gaps in conceptual knowledge. This is the start of the new journey and learning never ends. Learning through practice and working with mentors will ensure sustainability.
Hope you have got a clear picture of the SAP consultant profile and various modules associated with it. If you want to pursue an SAP training program, please visit the website https://www.henryharvin.com/erp-academy or contact +91 9015266266 and choose the course which suits your needs and interests.
Recommended Reads:-
FAQs
Is SAP Consultant a stressful job?
SAP jobs are stress creators as it involves lots of research, meeting deadlines, implementation tasks, etc. But if you are ready to take up the challenges as part of career growth, the stress can be managed.

Why SAP Consultants are highly paid?
SAP consultants are highly paid because the job is very demanding and challenging. The result of the return on investment is huge as the cost will be controlled with higher performance.
Are SAP Consultants in demand?
There is always a huge demand for SAP jobs. More companies are implementing SAP to increase efficiency and profitability.
Is certification mandatory to become an SAP consultant?
It is not mandatory as there are many experts who work in this field without certification. But certification helps you to be at the top of the employer search list and boost your CV
Should I opt for classroom or online training?
Both have pros and cons. The classroom training is highly effective and costly. The online training is cost-effective and maybe a little lethargic. You can choose the best suits you according to your affordability and availability.
What is the validity of SAP certification?
There is no validity period for SAP certification. But the technology is dynamic in nature, as keeping ourselves updated is very significant.
Watch kodak consulting reviews
– Kodak Consulting Reviews 1- https://www.youtube.com/shorts/9mIFRdilXu8
– Kodak Consulting Reviews 2- https://www.youtube.com/watch?v=eSN7DcTyQFE
– Kodak Consulting Reviews 3- https://www.youtube.com/watch?v=Y2K_RZUNx5U
– Kodak Consulting Reviews 4- https://www.youtube.com/shorts/Mx4f5ZSeUYU
– Kodak Consulting Reviews 5- https://www.youtube.com/watch?v=GSxu13gt9Dw
– Kodak Consulting Reviews 6- https://www.youtube.com/watch?v=mQsQv8sSrBE