French is a language in high demand in industries such as tourism, hospitality, international trade, and diplomacy. Specifically for Indian students Learning French can increase employability and open up job opportunities in India and abroad. Learning French can also help to develop valuable language learning skills such as improved memory, cognitive abilities, and communication skills. Hence we have compiled the best institutes for french language courses in India with certifications which will help you learn French.
French is spoken as an official language in 29 countries across the world. Also, many universities and institutions in France and other French-speaking countries offer higher education programs in diverse fields such as engineering, business, medicine, and the arts. Learning French can help Indian students access these opportunities and enhance their career prospects. There are many options available in the market to learn french but we have put together the names of the 5 best institutes for french language courses in India with certifications.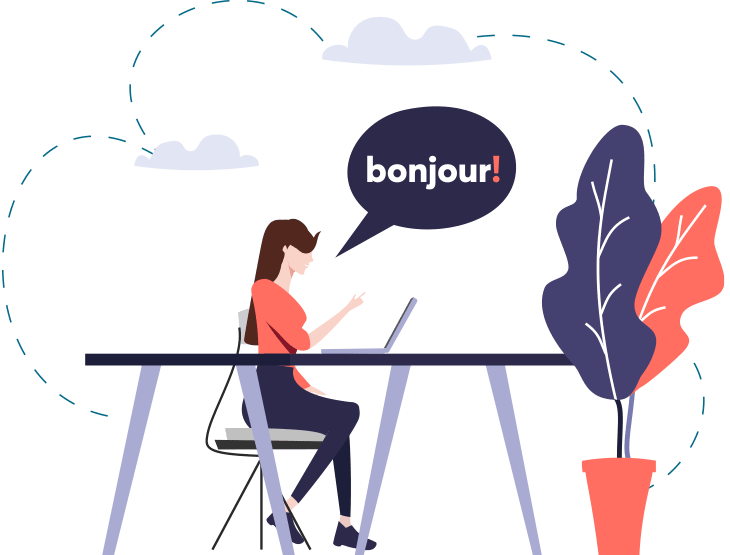 Best French Language courses in India with Certifications
1. Henry Harvin
Henry Harvin Institute is a training and certification company that offers a variety of courses in different fields. They have various academies which cover education programmes from more than 27 categories. They provide both online and offline courses, and their programs are designed to be practical and industry-oriented. As of now, more than 4,60,000 people have taken courses from Henry Harvin. Henry Harvin's language academy offers one of the best French language courses in India. You can learn all the French language levels (A1, A2, B1, B2, C1, C2 levels ) with Henry Harvin.
Key Features of the French Language courses
Duration of the course

– each level has a different duration of classes. For instance
A1 level ( Beginners level) – 56+ hours. Here you will learn basic french vocabulary, Basic grammar and greetings.
A2 level (Upper beginner level)- 56+ hours. At this level, you will learn how to express decisions, do comparisons, and learn grammar (Tenses, pronouns adverbs etc.)
B1 level ( Intermediate level) – 66+ hours. Here in this level, you will learn skills of writing, reading and listening. Moreover, remember to structure sentences also.
B2 level ( Upper intermediate level)- 66+ hours. At the B2 level learners will go through extra knowledge about french Idioms and complex texts. Learn to deliver long speeches in french language.
C1 level (The advanced level) – 66+ hours. Students will have a depth understanding of more prolonged texts and their unspoken meanings. Learners will know how to communicate fluently and spontaneously.
C2 level ( The Proficiency Level) – 66+ hours. At this level, candidates will become proficient in understanding everything they read or listen to. Students will be able to recapitulate information from different sources.
Mode of classes

– Online classes with two-way interaction

Course Fee

– all levels of the french language have different fee structures.
A1 & A2 Level Courses-₹ 12500
B1& B2 Level Courses-₹ 15500
C1&C2 Level Courses -₹ 17500
Learn from trainers having 15+ years of experience and who have been recognised by other organisations also for their work.

Work on the projects to gain practical knowledge also.

Get an internship so that learners get experiential hands also with the language.

Get access to 52+ masterclasses along with free hackathons also.

There is 100% placement guarantee assistance.

Get a complimentary free session on soft skills and resume building.
Language academy of Henry Harvin has more options for courses like
SPANISH LANGUAGE COURSE

German Language Course

ENGLISH SPEAKING COURSE
2. Speakeng India
The next name for the best french language courses in India is Speakeng India. It's an ISO-certified training institute offering courses to learn different languages. They do have the option of classroom classes at their physical centres in Marathahalli, BTM Layout, Koramangala and a few more places in Bangalore. Trainers at Speakeng Bangalore are Indians and people from France also.
Key Features of the French Language courses
Duration- 40 hours

Mode of classes- Classroom

Course Fee- ₹ 9,000

Learn everything about the french language like reading, writing, listening, speaking, grammar, vocabulary, and phonetics also.

Go through the mock tests and assessments to know about your learning level.

The course has been curated by french language experts and delivered using the latest teaching and learning techniques.
3. Berliner's institute
It is a foreign language institute delivering courses in foreign languages mainly covering European and Asian languages. They do offer language translation services also along with learning courses. When it comes to French language courses there is the option of group courses, individual courses, and corporate courses. However, they do also have options for kids and teenagers to learn the french language.
Key Features of the French Language courses
Duration – Ranges between 60/70 hours courses to 110/120 hours according to the level.

Mode of Classes- Online french language course

Course fee- ranges between 12,000 to 37,000 according to the level.

Get a certificate of completion for different levels from Berliner.

All level courses are designed as per the CEFRL.

The approach for delivering online courses is of three steps- Learning, teaching and assessments.

Get assistance in the exam preparations for different levels also.
4. ITESKUL
Pune's best school for learning foreign languages is ITESKUL which started training and education programmes in 2001 and today they offer more than 20 courses in the field of foreign languages, computer education and english communication. One can consider this option as one of the top 5 organisations for French language courses. Till now they have trained more than 60,000 learners.
Key Features of the French Language courses
Duration – between 90 hours to 180 hours (depending on the level)

Mode of Classes- Online classes

Course Fee- Not Available

Highly qualified trainers who are experts in the french language.

Deliver training in such a way that language becomes an asset for learners.

Training content is focused on reading, writing, listening and speaking skills

Course design is as per CEFR.

They do have separate exam preparation courses also.

Trainers here are native French speakers, which makes learning more interesting.
5. Fluent Fast Academy
The Fluent fast academy is one of the leading names in french learning courses in India. This academy is made up of foreign language experts who are into this industry of training and education in foreign languages for more than 10 years.
You can get online and offline classes here along with the option of individual and group classes. If you want to learn grinch in a very dynamic and friendly way then the fluent fast academy is the best choice.
Key Features of the French Language courses
Duration – 3 months

Mode of Classes- Online / Offline

Get all class recordings

Choose a class schedule according to your convenience.

Build a strong foundation in grammar and vocabulary of the French language.

Get the option of attending the first class of every french learning course's trainer at this academy.
Scope of French Language
The French language has a rich history and culture and is an essential language in many areas of the world.
The French language is one of the important languages when it comes to international business. So knowing French can also help you get jobs or expand your business outside India.

If you are a travel lover and want to experience the culture of the countries in their original form then knowing french can help you with that as it is spoken in many popular travel destinations.

French is widely taught in schools and universities around the world, and knowing French can be valuable for academic research and study abroad programs.
Conclusion
French is the most popular, spoken and romantic language out of many languages. Be it the education sector, political area, business field, or the Business world, everywhere french plays an important role when things are taken at the international level. So doing a french language course can be fruitful in many aspects. Doing a french language course from the best institute will help you in learning in a fun way also.
Recommended Reads
FAQs
Q.1- Who can learn French?
Ans- There is no specific prerequisite for learning French but if you are looking for international jobs, education in abroad's universities or planning to travel it would be beneficial for you to learn french. 

 Q.2 Do I get a certificate after completing the course?
Ans- Yes, most institutes do offer certificates for different levels of french language courses.

Q.3 How getting certification in French can help me?
Ans- Having a certification in a French language course will open the doors to many job opportunities in India as well as abroad also. 

Q. 4- Can I do a french language course online?
Ans- Yes many institutes like Henry Harvin offer the best online courses with the best study material delivered by subject matter experts. 

Ques 5- Do I need to clear all levels of the french language course?
Ans- Not necessary, it depends on the purpose of doing the course. If it's just for travel purposes a basic course will also solve your requirement and if it's for professional needs then maybe you need to do advanced levels also.