Why summer courses?
Whether you're looking to get ahead in your career, learn something new, or stay busy during the summer months, online courses are a great option! Summer is the perfect time to catch up on some coursework.
There are a variety of online summer courses available, so there's sure to be one that's a perfect fit for you. Not only will taking a course online give you a leg up on your competition, but it will also allow you to learn in a flexible and convenient way.
With so many online courses, it can be tough to know where to start. That's why we've put together a list of the best online summer courses for 2022. Whether you're interested in learning about digital marketing or exploring a new programming language, there's sure to be a course that's perfect for you.
Benefits of taking online summer courses that don't spoil the fun
You can learn at your own pace
You can choose from a variety of courses
You can learn anywhere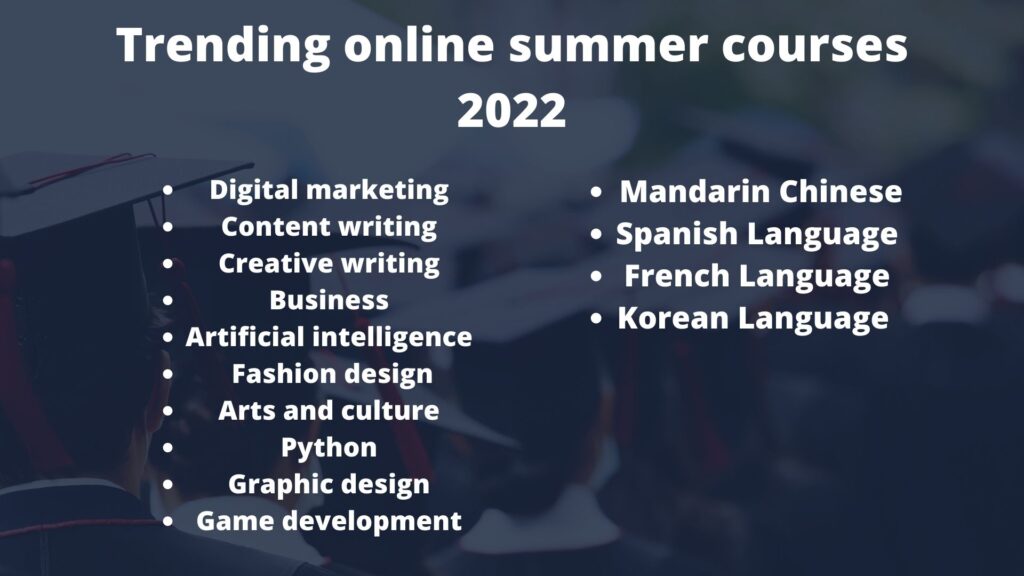 So why not take advantage of some great courses available this summer? In this post we are going to look at the top 25 Online Summer Courses in 2022.
1. Henry Harvin Teen academy
Henry Harvin Teen Academy offers many online summer courses for students. The Henry Harvin Teen Academy is set up with the purpose of preparing the teens for their academic future. Moreover, they guide the teens in the right direction.
Every online teen training course at Henry Harvin is planned to make it fun, interesting yet effective. Moreover, the teen certification makes them self-confident and self-assured.
The courses offered at Henry Harvin Teen Academy are
Language courses offered are
I. Teen MBA courses.
The Teen MBA course is for those who are aspiring to become a CEO, CFO, or CMO The course is designed in a way to develop and understand the critical skills required for the business world. The aim is to prepare students for college.
The course consists of 2 phases
Phase 1 – To build business skills like

Business planning
Team Management
Decision Making

Phase 2 – To choose the field of specialization

Marketing
Finance
Technology
The key features of the course are
Practical skills
Visualize your aspirations
Build a strong profile for colleges
T- MBA certificate
1-year gold membership of the teen academy
Program Methodology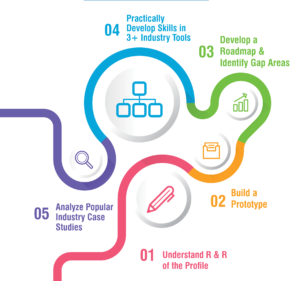 Course Details
The batch starts every week
Instructor-led live online
The course fee is INR 9500
II. Creative Writing course
Henry Harvin Teen Academy offers creative writing courses to kids below 11 years. This course is for kids who aspire to become a writer. Also, this course enhances the writing skills of kids by learning about the different writing styles.
Benefits of creative writing course for kids
Learn about various creative writing skills
Improve reading, writing, and communication skills
Learn about building character
Writing dialogs for the characters
Boost self-confidence and self-identity
Course Details
Duration – 12 hours
Fee – 12500
III. Language courses
Henry Harvin offers language courses for kids to gain the necessary multilingual skills with a world-class experience. There are 4 language courses provided
The course is designed for kids according to age. Hence, this helps them to ace the skill. The course is divided into 3 levels, reciprocal to the Common European Reference of Languages (CEFR). This course is offered for kids ages 5 to 12.
Key features
Individual attention
Regular assignments
Tracking learning progress
Few students for each batch
Course details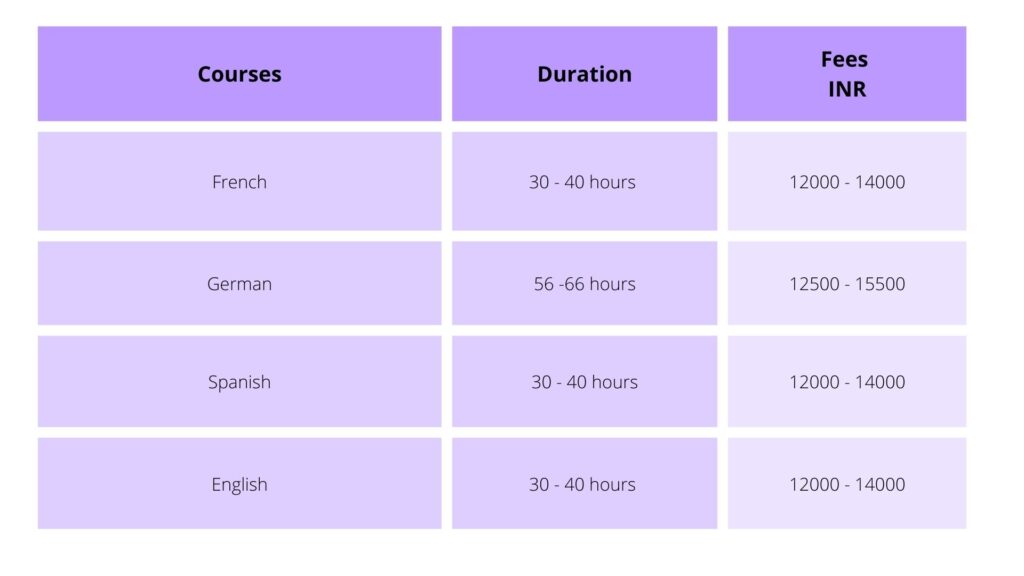 Henry Harvin offers other summer session programs such as
Henry Harvin's content writing course is ranked No.1 in India. In this course you will learn 30+ types of content writing. and also develop essential language skills. This is one of the best courses to learn this summer.
Course details
Duration – 40 hours
Fee – INR 17500
A one-in-a-kind Medical Writing course that helps you get a thorough understanding of pharmaceutical regulatory writing as well as medico-marketing writing. Strengthen your writing as you boost your skills as a medical and scientific writer.
Course details
Duration – 24 hours of two-way live interactive learning
Fee – 15000
Technical Writing Course teaches you the fine art of transforming data and information accumulated through a process or experimental work into technical documentation and guides.
Course details
Duration – 36 hours of two-way live interactive sessions
Fee – INR 17500
Henry Harvin's Digital Marketing course ranks No. 1 among the top 5 trending courses in India. Digital marketing is one of the highest paying and wanted jobs. Upskill your eligibility by enrolling in the course.
Course details
Duration – 40 hours
Fee – INR 15000
2. Berkeley Summer Sessions
Berkeley Summer Sessions offers various online courses that let you earn academic credit and satisfy requirements from anywhere in the world. Online learning through Summer Sessions allows you extreme flexibility with your study schedule.
Enrolling in Online courses
UC Berkeley students add summer online classes to CalCentral.
UC students from other campuses – apply to Summer Sessions before enrolling in summer online classes.
Domestic and international students – apply to Summer Sessions before enrolling in summer online classes.
The courses offered by Berkeley Summer Sessions across various departments such as
Arts and Humanities
Mathematics
Engineering
Languages
Please visit the official website to apply for the courses
3. Harvard summer school
Harvard Summer School offers online summer courses for both adult and college students. The courses are 3-week sessions and 7-week sessions
The courses offered are
Arts, Writing, and Humanities
Business and Economics
Computer Science, Math, and Engineering
Foreign Language and Literatures
Sciences
Study of Societies Past and Present
4. Oxford summer course
Oxford summer courses offer Melio online learning from Oxford tutors. They offer 2 types of online learning
Academic Online Courses
Duration – 2 weeks
Age group – 13 -15, 16-17, 18-24
Fee – Euro 875
One-on-one tutorials
Duration – Flexible
Age group – 13-24
Fee – Euro 1250
There are a variety of courses available across various fields. Thus this helps you research the courses and choose the courses which suit you the best.
Arts and Humanities
Biotechnology and Genetics
Business and Entrepreneurship
Economics
English and Creative Writing
International Relations and Politics
Law
Mathematics
Medicine
Psychology.
5. STEP
STEP elearn is an initiative by the Hindu Group. They offer a complete English communication course. It also offers online summer courses for kids and teens. STEP offers 3 types of courses for school students and other courses for adults.
The types of courses available for kids and teens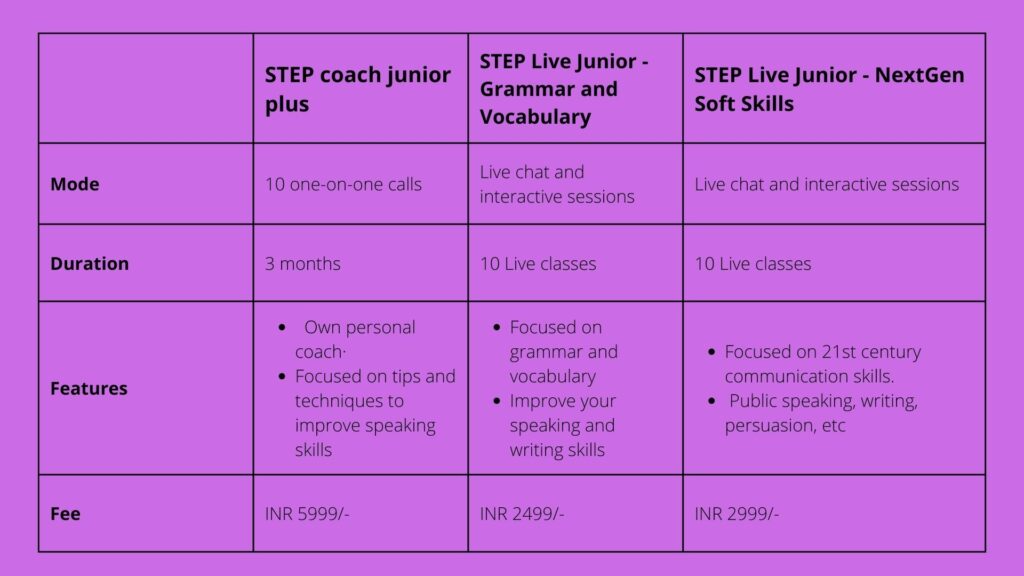 STEP offers other courses for
IELTS

Duration – 80 lessons Valid for 3 months
Fee – INR 7999

Working professionals

Duration – 80 lessons Valid for 3 months
Fee – INR 5999

Competitive exams

Duration – 80 lessons Valid for 3 months
Fee – INR 2499

How to speak with confidence

Duration – 80 lessons Valid for 3 months
Fee – INR 1999
For more details, visit the website
6. FLAME University Summer Immersion Program 2022
The FLAME University Summer Immersion Program provides the best opportunity for high school students. However, they offer not only academic courses but also non-academic courses to provide a strong foundation. The program has been creatively designed to give students a holistic learning experience.
Flame summer programs offer 15+ exciting courses. Some unique courses listed are
Musical traditions in India
Film Appreciation
Demystifying the Science of Happiness
The Exciting World of Data Visualization
Public Speaking and Debate
Eligibility – Min 14 years
However, some courses are offline. Please check the website for more details
7. Young Scholars Programme
Young Scholars Programme is an initiative by Ashoka University that offers unique courses to pre-college students and introduces them to the world of liberal arts learning.
Key features
5 days online certified course
10 different disciplines
Hands-on learning and experience
World-class faculty
Course details
Modules

Leadership
Community & Social Impact
Dramatics
Performing Arts
Communication & Soft Skills

Eligibility – For classes 9,10,11 and 12 with Min age of 14 years
Fees- INR 25,000
8. Brown pre-college program
Brown pre-college program offers summer @ brown online where you can choose from 80+ courses. The courses are designed in a way you can learn anywhere and at any time. The sessions are both live, interactive, and self-paced learning.
Courses offered are
Literature, Writing, and Communications
Medical and Health Studies
Physical Sciences and Math
Visual, Creative, and Performing Arts
Psychology and Social Sciences
Political Science, Philosophy and History
Course details
Eligibility – Completion of grades 9 – 12, ages 14 -18
Duration – 2 – 6 weeks
Fee – varies by the program you enroll in and the course duration
9. Cornell University summer sessions
Cornell University summer sessions offer more than 100 courses. The courses are taken by experienced university faculty members. Through summer sessions, you get to connect with people around the world.
The sessions are for 3, 6 and 8 weeks and you can choose which suits you the best.
Some of the online summer courses offered are
Sociology
Science and Technology Studies
Psychology
Linguistics
Mathematics
Course details
Eligibility – undergraduates, high school, adults, professionals, anyone interested
Fee – Varies according to the program and duration
Duration – from 3 to 8 weeks
10. Fleming Tech camps
Fleming Tech offers online summer camps for kids who are passionate about technology. Campers will be self-confident and willing to try new things after completing the sessions. The summer camps are designed for newbies and for those who are willing to upskill.
The courses are live and interactive
Courses offered are
Game Design and Game Coding camp
Video and animation camps
Programming Camps
Minecraft Camps
Web, Digital Art & Graphic Design Camps
Fortnite Camps
Roblox Camps
Course Details
Eligibility – kids and teens from grades 2 to 10
Fee – starts from $200
Duration – one week
11. Apex Learning
Apex Learning virtual schools offer summer courses that make it easily accessible and make summer fun. They have 20+ online summer courses for high school and middle school. You can choose from the list which suits you the best.
Key Features
Self-paced learning
Flexible
Engaging content
Easily accessible
Credit recovery
Courses offered are
Foreign language
Mathematics
Physics and chemistry
Information and Technology
12. Boston University High School Honors Online
High School Honors Online allows a growing junior or senior, to take up to two courses and get college credit from Boston University. Participate in challenging coursework. Join in dialogue with college undergraduates and other high school students around the globe. Discover exciting subjects through online lectures, discussion boards, individual assignments, and a flexible weekly schedule.
Online courses offered are on
College of Communication
Questrom School of Business
College of Arts & Sciences
However, various topics are discussed under the divisions, you can choose courses that satisfy your needs.
Course details
Eligibility – The courses are designed for pre-college students
Mode – Live online classes
13. Summer school UTRECHT
Summer school UTRECHT is the largest academic summer programme in the Netherlands and also belongs to the biggest summer schools in Europe. It is well-thought-out by its strong academic courses covering a wide range of subjects. Now they offer online courses and you can connect with students from all over the world sitting at home.
Some popular online courses offered are
Linguistics
Data science
Depression Management and Suicide Prevention
AI-Aided Systematic Reviewing
14. Indian Institute of Management Jammu
Indian Institute of Management Jammu announces online summer school to prepare students for the future. The program will allow students to enlarge their perceptions across many subjects and disciplines. The program offers an exceptional chance for young students to prepare them for higher education and student professionalism. It will also familiarize them with new topics related to Entrepreneurship, Marketing, Finance literacy, personal growth, etc.
The advanced teaching pedagogies used by IIM Jammu faculty will create a positive learning environment by engaging the students in the best possible way. Thus, the program will help students survive the demands of student life and prepare them for the future.
The main aim of the program is
to create awareness of the business environment and current trends
To engage in critical and creative thinking and to be more responsible
Introduce the new learning methods
Course details
Eligibility – Class 10, 11 and 12
Duration – 1 week
Fee – No Registration fee
15. Amity University Summer School Programme
Amity University Summer School Programme helps pre college students decide the courses which suit their aptitude and personality best. Students can choose from over 20 domains.
Domains
Science and Technology
Management
Communication
Creative programs
Film and Drama
Course Details
Eligibility – class 10,11 and 12
Duration – 2 weeks
Fee – INR 5000
16. Tribes for Good
The tribes for good offers a social good challenge, and it offers the best opportunity to use what inspires and drives you in life for a better cause. It allows you to understand your passions, desires, and dreams for the future, as well as direct you in the right direction.
Moreover, this challenge makes you step out of your comfort zone.
Benefits of enrolling in Summer Program – Global Challenges & Social Justice
A basic introduction to innovation and social entrepreneurship through workshops
learn-by-doing modules, and social impact projects, which will put them on a path of being a changemaker.
Being aware of the social issues, their multi dimensionality, and having a sensitive approach and outlook toward problem-solving.

The programs are offered every month and you can choose from the following
Gender Justice
Financial & Digital Literacy
Education & Technology
Sustainability
Animal Welfare
Course details
Duration – 4 weeks
Fee – INR 25000
For more details, visit the website
17. Young Technology Scholars
Young Technology Scholars (YTS) is a two-week rigorous summer program where students explore real-world engineering and problem-solving. Over hands-on learning and interdisciplinary coursework, you will learn how to influence technology to solve complex problems.
Course details
Duration – 2 weeks
Eligibility – class 9 to 12
Fee – INR 90000
18. Inspirit AI
Inspirit offers to learn AI from Stanford, MIT, and top university researchers. This is an exclusively designed AI course for pre-college students.
Course details
Duration – 2 weeks
Eligibility – class 9 to 12
Fee – INR 60000
19. Tbs Education
Tbs Education offers summer courses to learn the business. The course is designed to understand the European business environment. You get to work with multicultural teams and develop your soft skills. Moreover, they offer a wide range of business subjects.
Courses offered are
Digital Marketing
International Banking & Finance
Supply Chain Management & International Negotiation
Competitive Strategy in Europe
20. Aspire India Scholar Programme
Aspire India Scholar Programme offers summer sessions to high school students. The 10-day programme will help you get an outlook on a wide range of academic domains and career options.
The 10-day program includes
Thematic workshops
Skills Workshops
Career Sessions
Project
Gaming/Activity Zone
21. ISDI summer school
ISDI summer school is an exclusively design-led pre-college program. Moreover, the courses were created to help students explore design thinking and creativity. And this helps students to make career choices. This online instructor-led program is definitely productive for students who aspire to enter the design field.
Key features
Help students discover their interests & skills and make improved academic & career choices
Know the different disciplines of design
Distinguish between Art & Design
Develop empathy & social awareness
Furthermore, the program offers an exciting journey of discovery of design. Also, a unique mixture of engaging exercises and collaborative projects will stimulate students' capacity to think out of the box and encounter them to find solutions to problems.
Workshops for pre-college students
Design Thinking
Working with 2D
Interior design
Fashion design
Digital Photography
Portfolio development
Graphic design
5 Days workshop students will explore college-level curriculum and engage with highly motivated students.
Please check for the online summer schedule on the website
22. Udemy
Udemy is one of the largest online learning platforms. Whereas you can choose from a wide range of courses and different languages. You can find on-demand high-quality videos from worldwide instructors. This summer enroll in one of the courses and enhance your skills.
Additionally, Udemy offers a sale day where you can get top-rated courses at a discounted price.
Some of the popular courses are
Python
Web development
Excel
Java script
Drawing
Data Science
The courses are highly flexible and can be completed at your own pace.
23. Skillshare
Skillshare is an online learning portal where you can choose from 1000+ creative programs. The courses are curated for creative and curious people. It is an on-demand video class. Moreover, you can customize your classes.
Some popular courses offered are
Graphic Design & Illustration
Photo, Video & Animation
Crafts & Fine arts
Lifestyle, Productivity, Freelance & more
New members get one month of free access to the skillshare classes.
24. Yale summer session
Yale Summer Session brings together students from across the country and around the world to take Yale College courses online to improve their craft at the Yale Writers' Workshop or in the Summer Drama Program. Foreign students can also study law, business, or English in one of the certificate programs. Students in online courses study with the best Yale faculty, accessing the virtual seminar classroom from just about anywhere in the world.
Yale offers many courses and you can check for the online courses offered on their website.
25. NU learn
NU Learn along with IIM Raipur offers Digital Marketing Executive Certification for undergraduates and professionals. This is an advanced and updated course designed with a motive to educate the students on the rapidly growing world of digital marketing and social media
Course details
Eligibility – Working Professionals and Graduates
Duration – 5 months
Fee – INR 75000
Certificate provided on successful completion of the course.
Conclusion
To sum up, the above list is the online summer courses offered by various institutions all around the world. Each of them offers the most popular and trending courses for teens, pre-college, and graduates. It is necessary for every parent or student to check thoroughly on the course details and choose them wisely.
Among those thousand courses choose which inspires you, attracts you, grabs your interest, and most importantly, fits into your schedule. It is a good opportunity to enhance your skills and be one step ahead in this competitive world.
So what are you waiting for? Spend your summer productively by enrolling in the courses.
FAQ's
Q1. How many summer courses can I enrol in?
You can enrol in more than 1 summer course, but do check your schedule and the course details and deadlines for submission. So it doesn't burden you with loads of work.
Q2. Which summer course is the best?
There is abundant opportunity for every course you can think about. Please do your own research and choose the course which inspires you and suits you the best.
Q3. Can I learn a complete new skill within a short period in online?
Yes. There are courses which are for beginners, intermediates and advanced. Therefore, the courses are designed to fit your level. So go through the course curriculum and the course structure and the reviews given by the students. Online courses have many benefits and you get assistance throughout the course.