Master of Business Administration; a dream program for many students and a necessity for many. There is a clear difference between the two career aspirations. An MBA degree is in high demand in the market, as millions of students pursue it every year. It opens various career options in the management domain for the students. An MBA graduate easily fits into multiple roles like leadership, running a business, and starting a new business. These are a few job profiles that are trending in the market. There are many other job profiles that companies offer. An undergraduate can pursue an MBA degree program after B.Com.https://reviewsreporter.com/b-com-course/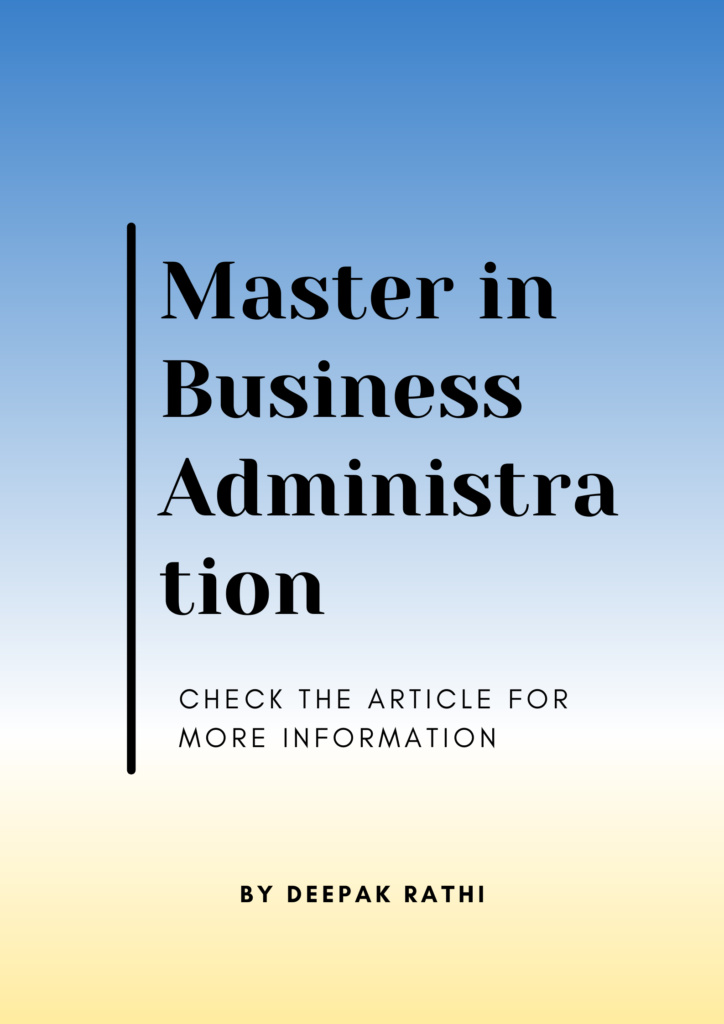 1. Eligibility Criterion for MBA Degree
The eligibility criterion differs from one college to college. Some colleges like to offer admission to the students on national test scores. A few colleges organize their entrance exam to select students in the MBA degree program. An MBA degree is by far the most valued and in-demand degree course around the globe. Here we will check some basic requirements to get admission in an MBA degree.
1) A student should score a minimum of 50% combined in graduation to attain admission in the MBA course.
2) Students from any educational background can pursue MBA degree courses.
3) Indian Institute of Management mandates a minimum of 60% throughout the graduation. A student should have scored 60% and above in schooling to make a strong profile for IIMs.
4) Cadets of the Indian Defence forces can directly apply for the MBA degree.
5) In the Executive MBA program, a candidate should possess at least five years of work experience.
2. Admission Process for MBA Degree
The admission process for an MBA degree starts only after clearing the entrance exams. Every year, national universities and state universities conduct their entrance exams to shortlist the students. The value of these exams is so much that even the top privately-run universities consider them while offering admission in MBA programs. With time, the MBA entrance exam has become more complex, and students have to study hard to score higher percentile.
3. MBA Entrance Exams
a) CAT
Common Admission Test is a national-level entrance test for the students to get admission in an MBA degree course. Every major B-school and university in the country merit students on the CAT score. All central government-run institutes take admissions only based on CAT scores. Since 2014, Tata Consultancy Services has been conducting CAT in October. It is a computer-based exam that goes on for two hours. We can say that appearing in CAT is a beginning step for students.https://iimcat.ac.in/per/g01/pub/756/ASM/WebPortal/1/index.html?756@@1@@1
b) CMAT
Common Management Admission Test is another national-level exam for graduates. The CMAT is a 3 hours computer-based online exam. There is no age limit for the graduates appearing in the CMAT. After CAT, it is the most reputed MBA entrance exam. AICTE affiliated institutes select graduates based on the scores of CMAT.
c) SNAP
Symbiosis International University conducts the SNAP test (Symbiosis National Aptitude Test) to offer admission to its fifteen management institutes. It is also a computer-based test, with the eligibility criteria of a minimum of 50% marks in graduation. Students appearing in their final year of graduation can appear for SNAP. Children of serving and retired defense personnel have special reservations in symbiosis institutes.
d) IIFT
Indian Institute of Foreign Trade, Delhi, conducts its management entrance exam to offer admission in MBA International Business. IIFT is the only institute in the country with only one MBA program. Here too, National Testing Agency conducts the entrance test regularly. IIFT has campuses only at three locations in the entire county; it shows the value of the MBA program.
e) XAT
Xavier Aptitude Test is also a national-level management entrance exam. XLRI, Jamshedpur conducts XAT test to offer admission to graduates in MBA colleges. Based on the XAT scores, more than 160 colleges shortlist graduates for the admission process in MBA programs. The eligibility for XAT remains the same as for the other management entrance exams.
f) MAT
Management Aptitude Test (MAT) became a national-level entrance test in 2003. All India Management Association is the governing body that conducts MAT hassle-free. According to the AIMA, over 600 colleges accept MAT scores to offer admission to graduates in various management courses.
g) NMAT
GMAC, an independent private agency, conducts NMAT, a national-level entrance exam for MBA admissions in NMIMS University and other colleges. It is an exam that makes graduates eligible for multiple management courses.
h) ATMA 
The Association of Indian Management Schools (AIMS) conducts ATMA for graduates to take admission in management colleges. It is a center-based entrance exam. 
4. MBA Courses
It is a genuine curiosity to know about the management courses beforehand. If you plan to pursue an MBA degree sometimes sooner, this list will help you. Here, we will check the details about some of the top MBA courses that B-schools offer. Over many years, various new management courses came into the curriculum. Those new subjects teach students about the dimensions of the market and its needs. Let's take a look at the top MBA courses.
1.MBA Financial Management Course
In financial Management, students primarily learn about two financial aspects. Firstly, the students will study capital management in-depth. Capital investment and utilization are crucial for a company to grow in its business domain. Companies invest a large amount of capital in their products, markets, and services. They need resources that make wise investment decisions and manage the capital flow.
Secondly, students hone their monetary decision-making skills. They develop analytical and money control skills. As people say, a single decision can make money, and it can bleed money in unthinkable ways. Financial Management is an important sector.
The points below will focus on the Financial Management course fee, top colleges, and job prospects.
MBA Finance course Fees
INR 1, 10,000 to 7, 00,000.
The fee for the Financial Management course varies from college to college. Though it is an expensive management program, the returns are even more satisfying and glorious.
MBA Finance top Colleges
Below are some popular MBA finance colleges that offer the Financial Management course.
Indian Institute of Management (IIM), Lucknow.
Xavier School of Management (XLRI), Jamshedpur.
Narsee Monjee Institute of Management Studies (NMIMS), Mumbai.
S P Jain Institute of Management and Research, Mumbai.
Indian Institute of Management, Kolkata.
Career options after MBA Finance
An MBA degree in finance opens up many career options. Finance graduates provide their services in the Banking sector, Portfolio management, Insurance companies, investment firms, etc. Some of the job profiles are as follows:
Corporate Finance Manager.
Asset Manager.
Banking Manager.
Credit Risk Manager.
2. MBA Marketing Management Course
Marketing is an essential domain for organizations irrespective of their size in turnover. Without a properly structured marketing department, a company will struggle to place its product and services in the market. Marketing people to a company are like lungs to human beings. In the MBA Marketing course, students learn about the trade of organization marketing. Students study product marketing, digital marketing, service marketing, liaison marketing, etc. The Marketing Management course helps students in their overall development. They also learn about corporate communication and its value in the corporate world.
We will go through the fee structure, top colleges, and jobs in Marketing Management.
Course Fees
INR 5,00,000 to INR 11,00,000
It is an average fee for the marketing management course. Some colleges have higher fees as they have collaboration with foreign Universities.
Top Marketing Management Colleges
Several colleges offer quality Marketing Management courses at their campuses. A few of them have special mention in the list below.
Indian Institute of Management (IIM), Ahmedabad.
IIM (Indian Institute of Management), Kolkata.
Indian Institute of Management (IIM), Lucknow.
XLRI Jamshedpur.
Faculty of Management, Delhi.
Career options after MBA Marketing
Marketing graduates are always in demand in the market. It is a field that has ample career opportunities. Here are some job profiles in Marketing Management.
Product Manager.
Marketing Manager.
Digital Marketing Manager.
Sales Manager.
Service Manager.
3.MBA Human Resource Management Course
Human Resource Management is the core management of resources and taking care of them. A talented and hardworking resource makes a good company. A company puts its faith and future on the shoulders of its employees. In Human Resource Management course, students learn and develop skills to deal with the challenges in Human Resource. They work on the tools used in the industry. Students study human psychology to understand human behavior. Human Resource Management is the study of problems an individual has to deal with at the workplace. Hence, Human Resource Management is crucial for an organization to grow multiple folds.  
Course Fees
INR 3,00,000 to INR 8,00,000
Human Resource Management is a favorite course for the graduates. Especially for those who have an interest in human relationships and behavior. The fees mentioned differ from colleges to Universities.
Top Colleges for HR Management course
Every Management College or University has an HR management course in their course list. It is one of the oldest management courses. Here are a few top colleges for the Human Resource Management course.
Xavier Institute of Management and Entrepreneur.
Indian Institute of Management (IIM), Ahmedabad.
Indian Institute of Management (IIM), Kolkata
Faculty of Management Studies, Delhi
Indian School of Business, Mohali Campus.
Career in HR Management
HR Management is a pathway to numerous job opportunities. Every company has to hire an HR manager; who can take care of the human resource.
HR Generalist.
Employee Relationship Manager.
Compensation Manager.
HR Manager.
Recruiting Manager.
5.MBA International Business
International Business is another management course. IB managers are crucial to making a local business global. They do in-depth research of the international market to place their domestic product.
Let's discuss the course fees, top colleges, and career options post completing the International Business Management course.
Course Fees
INR – 11,00,000 to 18,00,000
The International Business Management course is expensive. The fees can vary according to the rules of a particular college.
Top Colleges for International Business
A few colleges rank higher than others in International Business courses. The list goes as follows:
Indian Institute of Foreign Trade, Delhi.
Indian Institute of Management (IIM), Kozhikode.
Management Development Institute, Gurugram
SIIB, Pune
Indian Institute of Management (IIM), Bengaluru.
Career in International Management
IB management graduates have career options open in International firms. A few of the best career options are as follows:
Logistics Manager.
Brand Manager.
Country Product Head.
Foreign Exchange Manager.
International Marketing Manager.
5. MBA Syllabus
MBA is a two years post-graduate degree course. Each year has two semesters, and each semester has different subjects to study about various aspects of MBA.
Subject in MBA 1st Year
| | |
| --- | --- |
| 1st Semester | 2nd Semester |
| Corporate Social Responsibility | Microeconomics. |
| Microeconomics. | Business Law. |
| Principles of Marketing Management. | Operations Management. |
| Principles of Accounting. | Optimization and Project Research. |
| Tools and Framework of Decision Making | Corporate Finance. |
| Quantitative Methods and Statistics. | Project Management. |
| Business Communication and Soft Skills. | Marketing Management. |
Subjects in MBA 2nd Year
| | |
| --- | --- |
| 3rd Semester | 4th Semester |
| Supply Chain Management. | Internship Projects. |
| Financial Modeling. | Internship Projects. |
| Strategic Management. | Internship Projects. |
| Business Intelligence. | Internship Projects. |
| Marketing Research. | Internship Projects. |
| Managerial Economics. | Internship Projects. |
FAQs
Q1. Does Human Resource Management Course have a low placement rate?
The Placement rate depends on college to college. Generally, Human Resource Management has good placements.
Q2. EMI facility is available for MBA Degree?
A few privately run colleges offer MBA courses on EMI.
Q3. Are all MBA courses expensive?
No. Many government-run universities have nominal fees for MBA courses.
Q4. Is Agri-business Management a growing domain?
In the last decade, Agri-business has become more popular among new talents.
Q5. What are the colleges with foreign university collaborations?
Many private universities have collaborated with foreign universities. They have mentioned it on their home page.