B.Com Course
B.Com is one of the oldest commerce courses that young students pursue upon completing their schooling. It is an all-time favorite undergraduate degree course that offers numerous career opportunities. For many ages, B.com and other similar degree courses are the top choice for graduation for students irrespective of their family backgrounds. Over the years, many different degree courses came in the trend, but B.Com held its value, ease of pursuing, and craze among the students. In this blog, we will discuss the eligibility, admission process, salary, career scope, and the syllabus of the B.Com course.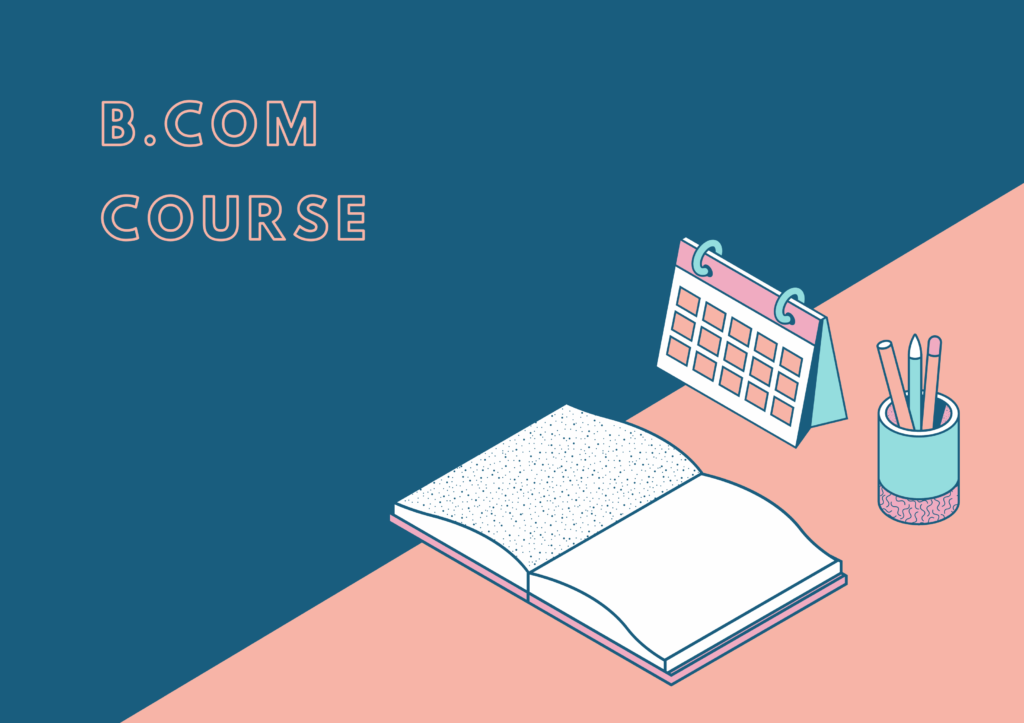 1. Eligibility for B.Com Course
The eligibility criterion for the three-year B.Com course is pretty simple and straight. A student must have studied commerce with mathematics in eleventh and twelfth standards at school. They must score good marks in the twelfth board exams. We will discuss the value of good scores in the next paragraph.
2. Admission process for B.Com Course
The admission process for the B.Com course is different for various universities. It varies from state to state as some universities release a cut-off list to select students for the B.Com course. On the other hand, some universities in the same state take admission of the students with marginally low scores. Maybe it is the difference between a top-ranking and a mediocre university. Some universities conduct the B.Com entrance exam to select students for the B.Com course. The entrance exam might make the admission process even simpler for those universities.
3. B.Com Course Entrance Exams
Generally, universities don't conduct entrance exams for admission in the B.Com course. Over time, some universities have come up with the entrance test to separate themselves from the cluster of universities. Here, we will check some of the top B.Com entrance exams.
IPU CET
Guru Gobind Singh Indraprastha University organizes this test to offer admission to students in the B.Com course and other degree courses. IPU is in Delhi and caters to students from various states. It is famous for its Law courses.
NMIMS NPAT
Narsee Monjee Institute of Management Studies calls students to take its entrance test NPAT. It is famous for its management courses, and it offers admission to the B.Com course at its various campuses. NMIMS ranks top among the management colleges.
BHU UET
National Testing Agency organizes UET every year for Banaras Hindu University. It is widely accepting admissions in the B.Com course of the students clearing the entrance exam.
Jain University JET
Jain Entrance Test is a gateway to the B.Com course and different courses at Jain University. A newly deemed university with the new setup and latest syllabus imparts good knowledge of commerce.
4. Top B.Com Course in Indian Colleges
Here is the list of the top B.Com colleges in India. It is a mixed list of government-funded colleges and privately run colleges. Students can make wise decisions after doing thorough research about the colleges.
SRCC, Delhi
Shri Ram College of Commerce is a leading college of Delhi University for commerce and economics. Its notable alumni are active in the top financial firms. SRCC offers B.Com. (HONS.) to the students to make them understand the advanced concepts of commerce.https://www.srcc.edu/academics/courses/bcomh
Christ University
CH offers the B.Com course to the students at its various Bengaluru campuses. Christ University is one of the best universities known for undergraduate and post-graduate commerce courses. It is a private university that mainly runs on charity. Students can directly apply for the B.Com course at Christ University's website.
Hindu College, Delhi
It is a prestigious college from Delhi University that offers quality education in commerce. Over the years, it has maintained its standard in imparting knowledge to the students. Hindu college offers the B.Com (Hons.) course. It has highly experienced teachers; who work hard to teach students and make them future-ready.
Hansraj College, Delhi
The College is famous for its B.Com course. It offers B.Com (Hons.) that focuses on the overall growth of the students. Faculties at Hansraj College put extra focus on developing entrepreneurial skills in their students. Its campus is famous for the amenities like advanced commerce labs, air-conditioned classrooms, and delicious food at the canteen.
Loyola College, Chennai 
Loyola College is a privately run catholic higher education college famous for its B.Com course. It is in Chennai, but it attracts students from the entire nation. Loyola College offers admission in the B.Com (Accounting and Finance) and B.Com (Computer Applications) courses. It has recorded a decent student placement rate in the last decade. It is a good choice of college to pursue commerce courses.
Lady Shri Ram College for Ladies, Delhi
LSR is the only premier college for higher education for women in India. It takes admissions only in the B.Com (Hons.) course from the female students from the entire nation. Each year, it stands higher than other colleges similar to it for its results in the commerce field. LSR is a favorite college of female students that promises egalitarian education and career opportunities. It has the best female faculties to teach students.
MCC, Chennai
Madras Christian College (MCC) is one of the oldest colleges in India. It is famous for its liberal arts course and commerce courses. MCC offers B.Com (Regular) course at its main campus in central Chennai. It has a Self-Financed B.Com course as well for special category students. Madras University affiliates with MCC, but it acts as an autonomous institution.
Narsee Monjee College of Commerce & Economics, Mumbai
NM is a Premier commerce and economics college located in the economic hub-Mumbai; famous for its commerce and management courses. It offers admission to the selected 60 students only. Like other colleges in this list, NM offers B.Com (Hons.) and the B.Com (regular) course. NM is the best college to learn commerce to become an accounts expert.
Ramjas College, Delhi
Yet another College on the list is Delhi University's Ramjas College. It is famous for its Undergraduate and post-graduate courses in commerce and economics. Ramjas College is renowned among students to pursue degree courses. It has special classes for developing business attitude in its students.
St. Joseph's College of Commerce, Bengaluru
A government-run college located in central Bengaluru. St. Joseph takes admission primarily of the local students, but it reserves seats for the students from different states. It is famous for its B.Com course and medical courses. Students have faith in its management and staff members.
5. B.Com Course (Hons.) Syllabus
B.Com is a three-year degree course. Each year has two semesters, and the total makes it six semesters for three years. Here we will check the syllabus for each semester that a student studies during the B.Com course. Before going further, we must know that some colleges offer specialization in the B.Com subjects. The most common of these specializations are Accounting and Financing.
It will be helpful to know that some colleges teach their students some specific subjects that prove essential in the current market. Colleges try to keep the insights of the market in their curriculum to make their students industry-ready.
| | | |
| --- | --- | --- |
| Year | Semester | Semester |
| 1st year | 1 | 2 |
| 2nd year | 3 | 4 |
| 3rd year | 5 | 6 |
Semester 1:
1) Financial Accounting.
2) Business Organization and Management.
3) Business Law.
4) Business Communication.
5) General English – 1 (compulsory).
Semester 2:
1) Business Mathematics.
2) Corporate Law.
3) Business Economics.
4) Business ethics and Corporate Governance.
5) General English – 2.
Semester 3
1) Corporate Accounting.
2) Business Statistics.
3) Fundamental of Financial Management.
4) Human Resource Management.
5) Environmental Studies.
 Semester 4
1) Cost Accounting.
2) Principles of Marketing.
3) Business Environment.
4) Financial Institutions and Markets.
5) Information Technology in Business.
Semester 5
1) Income Tax: Law and Practice.
2) E-Commerce.
3) Management Accounting.
4) Auditing.
5) Entrepreneurship.
Semester 6
1) Fundamentals of Investments.
2) Goods & Service Tax and Customs Law.
3) Fundamentals of Insurance.
4) Computerized Accounting System.
5) Personal Selling and Salesmanship.
6) Survey Projects.
6. Salary of a B.Com graduate
Till now, we have discussed everything about the B.Com course. We have talked about its eligibility criteria, admission process, Common entrance test, and the syllabus. Now we must focus on the perks of doing the B.Com course. The Ultimate goal of studying any degree course is to get a job and a handsome salary. Here we will see the median salary a B.Com graduate gets and the highest salary an organization offers to a graduate.
| | |
| --- | --- |
| B.Com Course Specialization | Average Salary |
| Accounting and Finance | 5 LPA |
| Marketing Management | 3.57 LPA |
| Cost Accountant | 5.66 LPA |
| Marketing Consultant | 8 LPA |
| Associate Auditor | 7.65 LPA |
| | |
7. Scope of B.Com Course
B.Com (Bachelor of Commerce) is a gateway to numerous jobs in the finance and accounting sector. We have seen that the B.Com course has extended its branches to marketing, entrepreneurship, and E-commerce. In the last decade or so, a large portion of commerce graduates has taken a keen interest in being entrepreneurs. They are building businesses in healthcare, fin-tech, ed-tech, and lifestyle. It has opened a window of opportunity for the students to get intriguing and challenging jobs.
A new trend of E-commerce business has overshadowed the traditional business models. The Internet has changed the whole scenario of doing a business, and it has changed the job profiles of people. B.Com graduates cannot rely upon the old concepts of running a business. They must upgrade their knowledge and skillset to excel higher in their careers.
The scope of B.Com is very high and long-lasting. Companies are hiring B.Com graduates at various job roles and positions. Companies are even paying more than usual to the commerce grads. The journey does not stop there post completing the B.Com course; a student can pursue an MBA degree or PGDM program. These higher qualifications will help them enhance their knowledge and career.
8. Career opportunities
Ample of career opportunities are waiting for the B.Com graduates. Gone are those days when a B.Com degree was just a secondary course. Now a student can choose from multiple career options. A few of them are as follow:
Actuary
It is a career option that always remains in high demand. Actuaries work predominantly in the insurance sector. They are the foundational resources that design an insurance policy and plan about the premium rate. Actuaries also work in the banking sector. The B.Com course lays the foundation for a future actuary.
Chartered Accountant
The whole finance sector is on their shoulders. CA is equally important to government departments and private firms. They make policies and plan budgets for a nation. It is a CA who single-headedly runs the financial department for a company. CA work hard enough to maintain a proper balance sheet of the company to save it from the penalties by the government agencies. CA is a professional course, and it is the toughest of all commerce courses.
Corporate Lawyers
Law aspirants are opting B.Com LLB in large numbers as it offers a variety of career options in corporate firms. A corporate lawyer needs not to work for a Law firm. They get hired in MNCs at the high package. In the last decade, corporate lawyers are topping the chart of maximum hiring in the corporate from the Law stream.
FAQs
Q1. What is the minimum percentage required for admission in the B.Com?
The minimum percentage required is 50% to apply for the B.Com course.
Q2. Is B.Com a degree course?
Yes, B.Com is a three-year degree course.
Q3. Which are the top colleges for the B.Com course?
A list of the top colleges for the B.Com course is there in the article.
Q4. Can Computer Application be pursued with the B.Com course?
Yes, some colleges have computer applications in the B.Com syllabus.https://reviewsreporter.com/mca-master-of-computer-applications/
Q5. Can I pursue MBA after my B.Com course?
Yes, MBA is a post-graduate degree program after B.Com.