Which are the most reliable career options after 12th science? It's a common question in every young student's mind after their 12th examination. Today's generation is puzzled about what career options they need to follow, how to start their preparations and many related questions.
The confusion is overcome when you are exploring their respective careers. Selecting the right path per your interest can make your career more productive, and you will also enjoy your profession without frustration or pressure.
So, don't worry; you will get all your queries related to the different professions and help you find a suitable career. So keep reading!
Top Career Options After 12th Science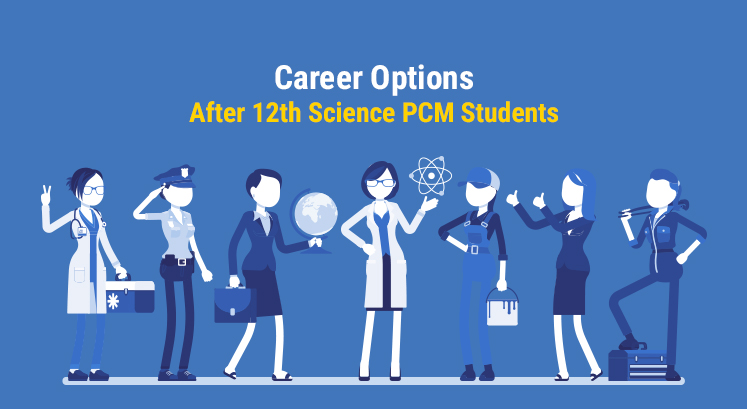 1. Forensic Science
An innovative field that sprouted from the Science stream. Forensic Science is a sub-field of Criminology that uses science for criminal procedures and investigations. Hence it is one of the promising career options after 12th Science and is perfect for those interested in Criminalistics and investigative analysis.
2. Industrial Design
The phone, car, and home appliance all come under industrial design. This is one of the fascinating career options after 12 Science. It is not restricted to designing but rather holds research and development. The students from science( PCM) backgrounds are eligible and must have to technical skills and knowledge needed in this field.
3. Criminology
Criminology has appeared as a popular course in India and abroad. It entails studying criminal behaviours, science, and legal studies. Therefore Criminology involves inspecting the crime science, motives, and impact of the incident and building measures to avoid it from happening again.
4. Nautical Science
Nautical Science covers both theoretical and practical skills and knowledge. This course is the study of handling and navigating shipments from their starting point to the delivery point. Therefore it is not a traditional course like engineering or medicine. It specifies skills like managerial, organisational, teamwork, technical and communication.
5. Architecture Career Options After 12th Science
Architecture surrounds the design and construction of houses and other item designs. Hence, It is one of the best career options after 12th science, and students require technical and creative skills to pursue it.
Further, students who adore tackling a wide range of issues and applying creativity and problem-solving to provide a creative and practical solution can also choose architecture.
6. Animation
An animator produces dramatic movements and sequences using computer software. They create two or three-dimensional layouts for advertising and films. Animators can collaborate with creators to make characters and environments.
A bachelor's degree in animation and graphic design is required to be a professional animator. At the same time, a postgraduate degree may help further enhance your knowledge and career growth.
7. Mathematician
Mathematicians apply theorems and concepts in various fields, like architecture, computer graphics, and business operations. They can also prove numerous theorems and advance their mathematical studies.
A mathematician can work in private or government research businesses, so a PhD is usually required to support one's employment opportunities and remuneration.
8. Data scientist Career Options After 12th Science
To investigate data, data scientists utilise numbers and algorithms. They also construct data forecasting, classification, and clustering models. In addition, data scientists frequently create unique codes to store and analyse structured and unstructured data. They may also detect patterns that aid corporate managers in making well-informed judgments.
Since firms require data scientist professionals due to the growing corporate scenario, data science is one of the best career options after 12th science.
9. Psychologist
People have started to give significance to their mental wellness just as much as worth their physical health. So this has become the interest of many applicants in studying Psychology and its several specialisations, like Industrial Psychology, Counselling Psychology, Clinical Psychology, and many more.
Your package in this field depends on multiple factors, such as your specialisation and level of qualifications, because there is a vital gap in academic credentials between a psychologist and a psychiatrist.
To work as a Clinical Psychologist or a Psychiatrist, you must acquire a bachelor's degree in medicine and then complete an MD and certification program.
10. Aviation
Aviation is an interesting and exciting field with great potential and scope. It is your perfect choice for one who can make quick decisions, is physically fit, and have excellent communication skills. The aviation sector is one of the highest-paying sectors. The exciting part is You can move to different parts of the world while working.
11. Merchant Navy
Merchant Navy holds facilitation of international trade through the transportation of commercial items, cargo, and goods. This field is highly motivated for those who are adventurers at heart since one can travel on long journeys overseas and discover the seas at their farthest lengths.
12. Statistics
Statistics is an exclusive and great career option after 12th Science other than Engineering. This field needs skilful professionals that can convey statistical applications to analyse the different trends and give predictions.
By enrolling on the study of Statistics, you can get into any field that needs data analysis, and all you require is strong quantitative reasoning skills and mathematical aptitude.
13. Physics
Physics is a unique combination of theoretical as well as practical fields that contains an immense number of career opportunities. These fields cover Quantum Mechanics, Medical Physics, Nuclear Physics, Computational Physics, and Data Science, many others. Moreover, one could either select from a wide range of job profile options in this discipline or continue in the area of research studies.
14. Pharmacy
A pharmacy course train students on how medications are manufactured and prepared. Additionally, study the methods of medicine supply in administering them. The student also gains knowledge of the compounds used in certain medications. Students who complete this course will get recommendations on healthcare programs because they will be acquainted with doctors' prescriptions.
Students can evaluate substances and the usage of specific drugs. To be a pharmacist, one must have a bachelor's degree.
15. Engineering
Engineering is another possible vocation that has supported revolutionising operations in multiple fields.
After 12th grade, engineering has become one of the most common professions. Some of the most demanding job profiles in the engineering discipline:
Electrical engineers
Aerospace engineers
Automobile engineers
Computer engineers
Conclusion
Choose a profession that interests you, not one recommended to you. It will give you satisfaction for the future and allow you to thrive in your field.
With so many job opportunities in all streams, you may always take your time to decide where your passions lie. However, this list of best career options after the 12th aid you narrow your selections. Continue exploring in-depth knowledge and improve your skills for a brighter future.
FAQs
1. What is the other option for PCM students other than engineering?
Ans: PCM students have different courses besides engineering, like law, journalism, data science, aviation, defence, etc.

2. Which job has the highest salary?
Ans: A career in aviation, physics, or data science has the highest salary

3. Which field growth in the future?
Ans: Data Science has shown drastic growth and will continue to in the future.