Human beings are inherently reactive. Emotions and people are inseparable. Thus, any situation involving people needs to be dealt with with utmost sensitivity. Emotional Quotient or Emotional Intelligence refers to developing the ability to understand, interpret and effectively respond to our own emotions. People with a high emotional quotient are typically aware of how they feel, what their emotions mean, and how their emotions influence others. Those who have a high degree of emotional intelligence can effectively handle both their own emotions and the emotions of other people with whom they interact. 
Why HR needs to have high levels of Emotional Quotient?
The World Economic Forum ranks emotional quotient as sixth in the top ten qualities that workers would need to succeed in their workplace. This is especially important for Human Resource professionals.
Human Resource professionals have to deal with some of the most emotionally charged moments in an organization, from the first day of work to the last working day of any employee, managing grievances, facilitating discussions around remuneration and appraisals, etc. It is crucial to observe, analyse, and interpret employee behaviour during these key times in order to provide them with necessary assistance. HR can be a pioneer in promoting emotional intelligence into a company's culture, which will assist the company in achieving its goals via effective leadership.
HR professionals need to be conscious of other people's emotions, and have the ability to intuitively facilitate improved performance based on this knowledge. At a higher level this strengthens organizational culture, sharpens its resilience and stretches its flexibility and in the long run it also leads to greater competitive advantage in the market.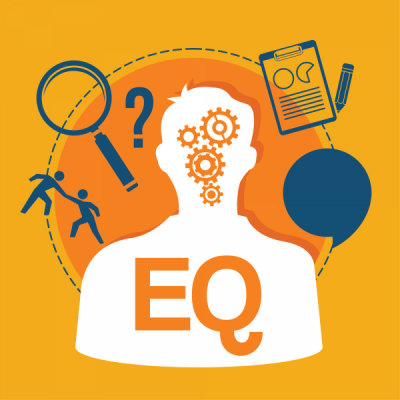 Emotional Quotient in HR during COVID-19 Pandemic
We are experiencing a massive revolution in the field of HR from the time the pandemic has hit us. Deeper technological integration in all functions of human resources as well as the hybrid working model are disrupting the traditional work of HR professionals. However, emotional intelligence remains indispensable.
Self Awareness, Self Regulation, Internal Motivation, Empathy, and Social Skills are five components of Emotional Intelligence, according to Daniel Goleman's EI framework. HR may use these aspects in numerous permutations and combinations to improve the overall employee experience in these times.
These testing times have brought to the forefront the strength of a leader's emotional quotient. The following are some of the areas in which leaders need to leverage their EQ to support employees in these challenging times: 
     

Dealing with anxiety and uncertainty –

Today's leaders must evaluate and address their own concerns and fears, as well as the needs of others in the organisation. Covid-19 has led to a lot of apprehensions in the job market and only an emotionally sound business leader can empathize with employees and help them cope with these uncertain times without hampering their productivity at work. 
 

Making well-informed decisions –

Feelings also need to be used as a data-point for effective decision making. An emotionally intelligent leader knows that it is important to balance your emotional and rational responses while making crucial decisions.

 
     

Communicating negative news –

Some information will always be difficult for leaders to communicate with their teams and colleagues. Emotionally charged answers and reactions from peers should always be treated with caution and compassion. In the event of bad news, HRs can always offer to assist employees with what can be done next. 
     

Inspiring and motivating people –

If a manager lacks EQ, most employees will not like working with him/her. This may result in a demotivated workforce, resulting in decreased productivity. The ability of a leader to see possibilities and opportunities even in the face of adversity will keep the team motivated and engaged. 
Importance of Emotional Quotient in various HR functions
Human resource professionals with a high emotional quotient are better able to make informed decisions throughout the employee life cycle. The following are some ways in which the HR's Emotional Quotient can create value for the organization:
1) Hiring and Onboarding
The emotional Quotient of an HR professional can help in elevating candidate experience which is instrumental in building employer brand too. HR technology will make the process easier, but adding a personalized touch while interacting with candidates during the hiring process will attract more talent and help in better retention. Recruiters that have been educated in EI evaluation can assist in identifying potential candidates who have a high EQ and are typically strong performers. This would attract the best candidates while lowering the expense of a bad hire.  
2)
Performance Management
HR professionals often need to have difficult conversations with employees at the time of performance review and appraisals. Performance-related discussions need to be conducted with an empathetic approach so that the employees feel comfortable sharing their perspectives as well. Having a strong Emotional Quotient can help HR facilitate meaningful and unbiased discussions, especially while dealing with non-performers. 
3) Training and Development
Unlike IQ, EQ is a skill that can be learnt and developed through practice. HR can facilitate workshops and trainings on managing emotions, empathy or social skills which may help strengthen the relationship between colleagues and cross-functional teams. Employees with a high degree of Emotional Quotient are more receptive to feedback, criticism, conflict resolution, and they use such instances to their advantage rather than being negatively affected by them. 
4)
Employee Engagement
An engaged employee is one who is completely engrossed in and enthusiastic about their work, as a result of which they take positive actions to advance the organization's reputation and interests. The engagement of an employee is determined by the mental, physical and emotional involvement of the employee. Employees seek meaning and purpose in their job, they want recognition and a mentor like a relationship with managers to learn and grow. An emotionally sound manager knows how to keep employees engaged and connected with the organization. 
5)
Grievance Redressal
Employees should feel supported and respected while reporting any issue of concern. Leaders should conduct inquiries with dignity and confidentiality, coupled with impartiality. A leader with a strong Emotional Quotient is very crucial for conducting disciplinary conversations in an organization. 
6)
Advocate Diversity, Equity and Inclusion (DE&I)
It is important for organizations to identify core barriers that hamper the experience of underrepresented individuals at work. In order to create an inclusive workplace, it is important for employees and managers to be more accepting and sensitive towards individuals from diverse backgrounds. The emotional Quotient of an HR professional can play a pivotal role in promoting DE&I at the workplace. 
Emotional intelligence challenges individuals to act in ways that are not natural to their core nature and this is where its strength lies. It is crucial for HR professionals to have a level of control on their emotions to become more conscious and self–aware leaders. 
As a famous quote goes, "IQ may get you hired, but EQ will get you promoted."
So, while we hone our technical skills, we must not forget to work on our emotional intelligence!