Teaching ESL with current trends, also known as teaching English as a secondary language is one of the most demanded courses in India. So, do you want to know what are the trends currently all the other ESL tutors are following and earning great money? Then keep on reading the blog.
For your convenience, I have divided the ESL trends into three modes of teaching style, so you can choose the trend that is most suitable for you. There are many countries in the world where English is the first language. So, having a command over this skill can take your career to reach the heights you always dreamed of.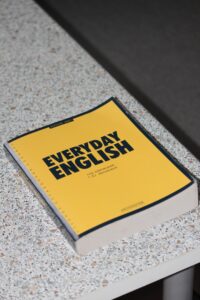 Why follow Trends While Teaching ESL?
Teachers need to adapt to the changing times because their target audience, the new generation, will not be prepared for the future if they study in old formats. Hence, it becomes crucial for the teachers to be ready with the latest trends or methods of teaching ESL. In light of that, sharing a beautiful quote supports my viewpoint.
"So a good teacher always makes you do something a little bit more than you thought that you could do" – John B. Goodenough
On that beautiful note, let's look at the current trends in teaching ESL in 2022.
I have broken down the ESL trends according to the mode of teaching. So, it is easy for you to pick and choose according to what modes you use and then implement those trends into your teaching life.
Note that you can skip the teaching modes information and jump directly to the ESL trends. Although, I would suggest going through the modes once just to understand to blog in detail.
How many modes of teaching ESL are there?
Basically, there are three modes of teaching ESL.
1. Didactic – Teacher-Led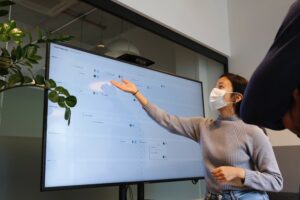 Teacher's role – The teacher is the main provider. Where He does all the teaching using materials and different methods.
Student's role– The student's part is just to observe and learn from the teacher.
2. Inquiry – Teacher + Student-Led Teacher's role – The teacher is the companion. Where the study feels like more of a collaboration than one way of observation.
Student's role– The student's part is as important as the teacher's. Students ask and get involved in the learning process.
3. Discovery – Student-Led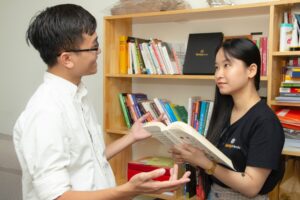 Teacher's role – The teacher is just like a support system. His task is only when a student asks for his guidance.
Student's role– The student's part is the main one here. He does all the tasks by himself and connects to the teachers only in case of doubt.
Now let's start looking at Current ESL Trends – Didactic Trends
Use content creation platforms
Content creation platforms are the best place to look for trends, right? Today, content platforms are all the rage. The presence of platforms such as Netflix (Student area), IGTV (Instagram), Reels (Instagram), and so on. The platforms provide teachers with the opportunity to establish their brand and gain an audience.
Many educational creators use these platform to showcase their mastery of the subject and people looking for help discovers them and joins their coaching. As the platforms are getting bigger the audience is also getting larger.
This creates a bigger opportunity for tutors to grow and market their skills. Also, those who do not have their physical classes yet can just use these platforms for teaching.
Try the TPRS technique (Teaching Proficiency Through Reading and Storytelling)
Even though TPRS is an old method of teaching foreign languages, many new tutors are still not aware of this.
Using this method you can train your student's brain for 2 crucial aspects of learning a language which is pronunciation and dialect. One of the main issues faced while learning a new language is remembering the words. So, by using this technique, the tutor helps the students to remember a big set of words by creating a classroom story and saying it out loud with gestures and expressions.
Additionally, the students also take part in this, and at the end, they read the story in front of the whole class. This helps the students to remember the new vocabulary very easily. So, if you are not using this technique in teaching ESL then start using it.
Utilize trendy teaching platforms
Other than the social media and entertainment platforms, some educational platforms are also getting a lot of audiences.
Platforms like Udemy, Skillshare, and Youtube let you upload your course for free. You can decide to make your course free for the students or get paid for it.
Additionally, these platforms are so big that they spend a ton of money on their marketing. So, in a way you are getting free marketing.
This is a win-win situation for tutors. Hence, if your content is good then with the help of these platforms you can get students without any marketing of your course.
Become a Brand
Gone are those days when only a movie star was considered a human Brand. With the increasing use of technology and multiple platforms to sell your service, many people have created an impact with their name. We can also say that they have created a brand identity for their name.
There are various benefits of it. For example, if you are famous on any platform, you can not only earn by coaching but also from brands who are looking for a suitable match for their product. People anyways consume a lot of content these days so if your content is engaging enough for them, they will not only learn by watching you but they will also share your content with others.
This is known as word-of-mouth publicity, where you don't go and sell your service but people who have already liked your service get clients for you.
Another benefit of creating a brand is that you can then charge a higher price for the same service. Many young language tutors have already created loyal followers who watch their content religiously and buy the stuff on their recommendations.
So, don't wait anymore and start creating your own brand image and become a part of trends in ESL.
Explore Podcasts
While we are talking about different modes of teaching, there is a big unexplored opportunity waiting for you in the form of Podcasts.
In today's busy lives people are finding things that can be merged into their routine without finding a separate time for it. Podcasts are the best fit for this situation. While listening to content is already recommended to learn a new language, creating your podcast will help to create a niche for you that is loyal and in a less competitive space.
You can also hybrid your teaching method by creating a video course and redirecting the same audience to improve their listening skills on your podcast.
So, the choice is yours, you can either create a special storytelling channel or a full-fledged course for your listeners.
Current ESL Trends – Inquiry Trends
Use Augment Reality
How would you feel if you had an app where there were people who helped you learn English and practice spoken English?
Well, AR is being widely used in the educational field because it makes learning much faster and more engaging for the students. Tutors create interesting games and puzzles for a student with these apps and students learn without realizing that their minds are being trained.
As Teaching English as a foreign language is a very popular area in the education field, using AR to make it interesting for the students will help you get more attraction of the students.
VR is Real
It is not possible to discuss ESL trends without including VR. VR which is virtual reality is a mode of entertainment that is getting popular fast. Many people have already started to take advantage of this technology.
We already know that learning a language is more of a practical thing. Yes, of course, we need to learn the grammar and basics but eventually, the application and speaking are what are needed to polish the language skills.
Due to the current situations in the world, going out and studying can be difficult sometimes. For that, having your classes in VR can be a great help to the students who want to interact with people with a real-life feel.
Virtual reality is also a trendy topic so many people would love to experience it. So, you can keep your classes in a VR format and make learning fun for your students.
To live up to the Expectations, Use Live Sessions
In a world where even the biggest celebrities are available on social media to answer their fan's questions, a teacher should do it first, right?
Interactive sessions are most loved by students as it allows them to get the answer to those questions which are not yet answered on the internet.
Students can learn anything today with the internet so why should they look for a specific person for this? The answer is simple, the internet is a general platform while a tutor can be their personalized guide. Not all of them will have the same questions written in the FAQs, right? People are unique hence their doubts will also be unique and you can be there to help them if you utilize live sessions on platforms like Instagram, Facebook, or youtube.
Trust me, if you help them grow they will help your business grow.
Current ESL Trends – Discovery Trends
DIY learning
Sounds cute right? DIY which is Do It Yourself is a fun way of teaching ESL. Teachers are really smart when they understand which student needs help at every stage and which student is capable of doing things on their own.
There are always a few brilliant students who learn better when you just give them the basic material and let them create their own version of beautiful art from it. As a tutor, your responsibility is just limited to giving critical feedback and helping them think outside the box.
Other than that, let that brilliant mind bloom on its own. These ESL trends can be used by tutors who are masters in their field and they are only present to solve advanced-level issues.
So, as per the name, create your own set of basic material for the students and let them DIY the rest.
Provide 1:1 Sessions
Another ESL trend is 1:1 sessions. While teaching students with high intellect, it becomes necessary to attend to them individually. This is because those students will not have common questions or basic issues.
Those students will have issues that will require time and effort to be resolved. May be some motivation or support as well. To do that, interacting with them personally also known as 1:1 is your best option.
You can offer special 1:1 sessions to your followers or students at a price that is higher than normal classes because these sessions are generally intense and long. You end up solving all their doubts and they achieve their goals by only attending that 1 session with you.
The point to be kept here in mind will be that only SMEs (subject matter experts) should be having these sessions if you book these sessions with your students or followers and fail to help them, it can create a bad image of you which you cannot afford in the social media world.
Become a Twitter Master
We all know that Twitter is a place for people who have syringe opinions and knowledge on specific fields. Many people have created a reputation of theirs by projecting their expert opinion on Twitter.
While we are talking about the student who does not need basic help, we should understand that these types of students are always looking for experts on different platforms. Twitter being famous for showing expertise and knowledge become a platform to conquer by expert tutors.
So, if you feel that you can give advice or help people learn English better than any other teacher then start showing your knowledge on Twitter.
Many people get viral on Twitter so can you. Once you come into notice, there will be no looking back for you. So, go there and ace your Twitter game.
Be a Part of The Corporate World
One of the main target groups if you are working in a discovery-based environment is corporate people. There is a large number of people who wants to expand their skill sets to achieve their career goals. For that purpose, having a command over communication is their most used tool.
By creating a good image in the market you can be a trainer or tutor who teaches corporate employees English foreign language through either small training sessions, or seminars or create a specific course for them which can be beneficial to them in advancing their careers.
Giving tasks and projects is a lot of fun
Well, among other ESL trends this ESL trend is self-explanatory. As the name suggests, there is no need for any theoretical course of lectures, rather the tutor will create fun and engaging projects or tasks which the students will perform to learn the language.
This type of trend can be used for those students who are not into reading or writing, rather they learn better by doing activities. Tasks like creating a unique story or going to the market and start writing down the things you noticed can be both engaging and useful in real life.
As a thank you for reading the blog till the end I have a surprise bonus help for you. Here is my favorite course for teaching ESL.
Henry Harvin provides you AAEFL trained tutors to teach you TEFL. Also, their courses come with certification which can help you gain trust amongst the people.
This course is so amazing that it has helped more than 1000 people in teaching ESL to the best of the market standards. Let me tell you a little more about the TEFL course.
The course is fully online and one can finish the course in just 40 hours. Learning a language is an interactive thing so this course provides you with live sessions where you can communicate with your instructor about any doubts or concerns you may have.
In addition to that, they also provide 24 hours of community sessions and 56 hours of videos, assessments, E-learning, and more.
After the course, you will receive AAEFL certified TEFL certificate. Don't think twice as Henry Harvin comes with years of experience in the field and there is no better TEFL/ESL course in the market than theirs.
Summary
So, these were the current and most probably the future trends in teaching the ESL field. I have tried my best to incorporate things that are really useful. Even though I have divided the trends into three parts but you can use a hybrid style of teaching. I feel only when you know your students, you can decide which trend will be most useful for them. Also, a teacher should be creative enough to mold and adjust in a way where he can teach the students even without making them feel that they are doing a difficult task.
Learning or teaching ESL is not easy, learning any new language is not easy but in current times needs to be fluent in English. So, it is a golden opportunity for those who want to become a tutor for teaching English as a foreign language as the market for this skill is very large today. Lastly, I would like to tell you that trends are created by people like you and me only, so if you think you can have a better way of teaching your students then stick to it even though it might not be in trend today.
FAQs
1. What does TESL mean?
TESL stands for Teaching English as a Secondary Language.
2. Where can I use the TEFL certificate?
TEFL certificate can be used in your resume or as a trust builder while creating your own ESL coaching classes.
3. What can be the career opportunities after taking the TEFL course?
Coaching in corporate fields, Creating your own coaching classes, and advancement of your career are a few places where the TEFL course can be used.
4, What is the demand for TEFL tutors in 2022?
More than 1.5 billion people are currently learning English. Hence, the demand for TEFL tutors is very big globally.
5. How much can I earn as a TEFL tutor?
There is no specific number for this. You can earn as much as your brand value is in the market. That is great because you can earn a lot if your name becomes famous.
Related courses
Young Learners Teacher Training
Business English Teacher Training