How can we ensure if the lessons are effective and the students can grasp the concepts or not?
How do the companies train the existing employees as well as the new ones?
How do the organizations use modern tools to enhance learning and training?
The answer to all these questions is Instructional Design.
Instructional design is the creation of instructional materials, lessons, and modules as per the need of the learners. It defines the goals and objectives of instruction, planning of tasks, designing the teaching and learning activities that suit the quality of instructions. It is a process through which the learning products are designed, developed, and delivered. The magic triangle of Instructional Design involves- clear goals and objectives, learning activities & assessments. With the rise in a pandemic, most of the organizations like health care, financial services, e-commerce and retail, educational institutions are conducting employee training online or remotely. There is a great demand for professionally designed education and training material ever since the rise of the pandemic. Thus, career-minded professionals can explore and make a bright future in this exciting high paying & demanding field of Instructional Designing. It is a good career path for teachers as well.
There are many Instructional Design Models like-
The ADDIE Model-Analysis, Design, Development, Implementation and Evaluation of instruction.
Bloom's Taxonomy- It is a hierarchal order of cognitive skills that helps students to learn and teachers to teach.
SAM Model-Successive Approximation Model is a simplified model of the ADDIE model.
Iterative Design- It is developing and refining an instructional design based on feedback and evaluation.
Learning Circle Framework- It works in three phases: target, create and launch.
Books have lost their essence in the digital world but it still is an invaluable source or embodiment of knowledge. If you want to deepen your knowledge of Instructional Design, here is a list of top 10 books for you to browse, expand your skills and help you to understand more about Instructional Design.
Now, let's explore the top 10 books on Instructional Design that will help you to build a career in this field: –
1. Design for How People Learn (Voices that Matter) by Julie Dirksen
This book is one of the best-sellers with a rating of 4.6/5 for advanced learners. It has nine chapters that take the reader through the process of thought processing and the task of designing learning experiences. It uses metaphors, graphics, and stories to stimulate thinking. Learning is a continuous process but creating an enriching learning experience is a difficult task. The key principle behind learning, memory, and attention is to create such materials that enable the learners to gain and retain knowledge and skills. This new edition includes techniques to use social media for learning. It includes two new chapters on designing for habit and the best practices for evaluating learning. This book teaches how to use the fundamental concepts of instructional design to improve your learning as well as to engage the audience.
Julie Dirksen is an instructional designer in a corporate setting. In this book, the practical real-world application coupled with show-don't-tell educational model is theoretically and practically sound. It is written in the context of the learners' journey coupled with instructional designers' quest. It will be retained in the memory of all learners once they read this book.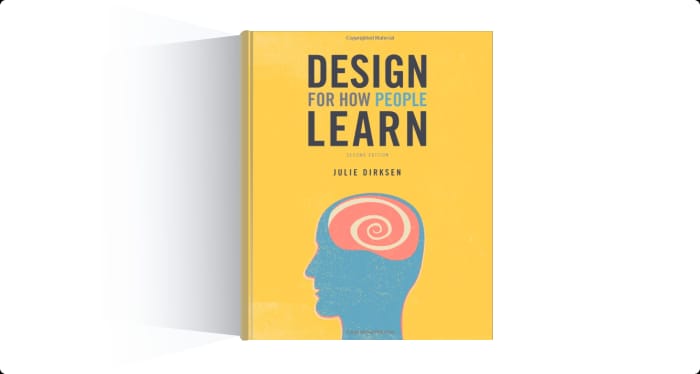 It is available on Amazon and can be read on any device with the free kindle app.
The cost is $16.20 on Kindle and the Paperback costs $21.05
It is also available on flip kart @ 4219 INR
2. The Accidental Instructional Designer: Learning Design for the Digital Age by Cammy Bean
This is one of the best books for people who want to change their profession and become instructional designers. It has a rating of 4.5 out of 5. It has three parts which are further divided into 12 chapters. It takes you through the author's personal experience, filled with her insights and tips, and also guides you about the online learning design process. It covers every aspect of the e-learning design process, creating scenarios, designing visuals, and working with SMEs. The book presents a modern take on instructional design for e-learning. It also shares the best practices, case studies, and what to avoid when designing an eLearning program and also reveals how one can go from being an accidental instructional designer to an intentional one.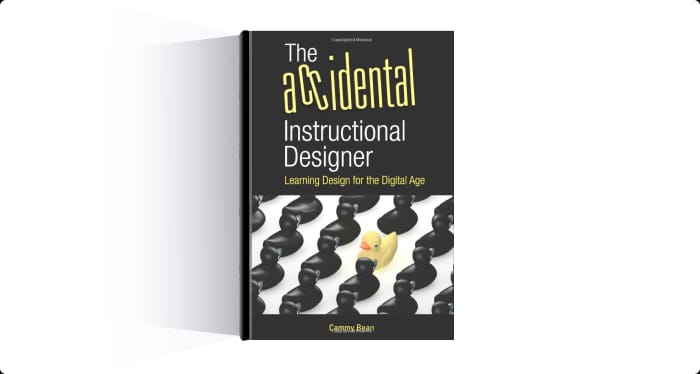 It is available on Amazon- the kindle edition costs Rs. 1717.69 and the paperback costs Rs. 4320.82/-
3. Michael Allen's Guide to e-learning: Building interactive, fun and effective learning programs for any company-
It is a must-read book for all people aspiring to be instructional designers who are already experienced ADDIE. The customer rating for this book is 4.6/5. In this book, you will read about Mr. Allen's three pillars of online learning, the importance of applying them to your projects, and the results you will get when you do. It gives an insight into alternate ISD concepts. This book takes you through history, the common pitfalls, tips and discloses the path that led the author and his company to success. The author is an industry expert who speaks out against ineffective, dull, boring, costly e-learning and gives practical approach for creating powerful e-learning based performance solutions. Dr. Michael Allen is considered the father of modern interactive learning. The book offers a specific, practical approach to guide the development of successful technology-assisted teaching & learning. If you want innovation or a new approach to developing, designing, and implementing training content, then you should read this book.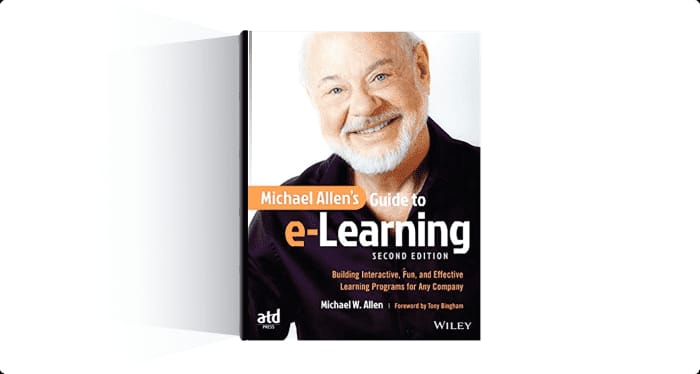 The kindle edition in Amazon costs Rs. 353.41 and the paperback costs Rs. 3301.00/-
4. Map It- The hands-on guide to strategic training design by Cathy Moore
This book by Cathy Moore is one of the best Instructional Design Books. The customer rating for this book is 4.7 out of 5. It deals with the problems the designers face in improving their working skills. In this book, she gives her solution-action mapping. It also talks about the hard and soft skills needed to use this approach. It helps to turn training requests into projects that make a real difference. It helps the clients to identify their performance problems, create realistic activities, choose the best format for activities, enjoy creating all engaging activities, and also shows how the project has improved the performance of the organization. It is entertaining as well as informative peppered with wit and humor. She is the creator of the action mapping model.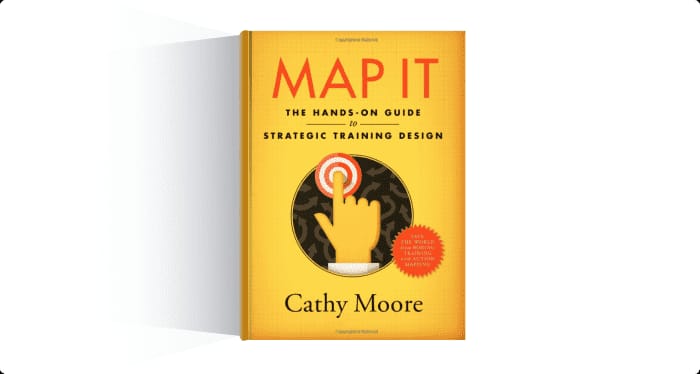 The Kindle edition on Amazon costs Rs.3653/- and the paperback costs- Rs. 4406.00/-
5. Agile for Instructional Designers by Megan Torrance-
This book is a blend of multidisciplinary techniques. The book has three parts with 14 chapters on how to kick off the projects, manage the projects and apply agile in your organization. In this book, she uses her decade of business consulting and project management experience to her instructional design and development work. She gives a detailed explanation on how to plan, deliver, estimate in iterations and communicate. She uses the common phases of ADDIE to incorporate the incremental, iterative nature of Agile projects. It helps learners to test, evaluate which feature works before they are finalized. She has written an exciting, engaging, and informative road map to apply an agile mindset to Instructional design.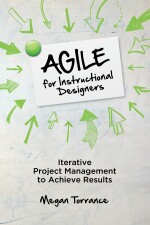 The amazon kindle cost of this book is Rs. 2141.00 and the paperback cost is Rs. 3542/-
6. The Essentials of Instructional Design: Connecting Fundamental Principles with Process and Practice by Abbie Brown and Timothy D Green-
This book introduces the essential elements of Instructional Design to the novice. It helps beginners to understand the core principles of ID. A customer review of 4.2 out of 5, provides a robust overview of the fundamental principles, processes, and practices that currently shape the field. It does not follow one model. It offers various real-life experiences in various professional settings and helps students to learn how to use these ID processes in practice. It gives information to the students to make informed decisions on how to design and develop instructions and also explains the strengths and challenges associated with this approach.
It is available on Amazon for Rs.12360.00/- and 36,399.96 for Paperback.
7. More Than Blended Learning by Clive Shepherd-
This book empowers Instructional designers to take a different and modern approach which helps in designing learning experiences. He explains how to go beyond the traditional boundaries. The book consists of an end-to-end process called PIAF which consists of Preparation, Input, Application, and follow up. The book is rich in examples and is a collection of helpful tips. The blended solutions described in the book go a step more than blended learning to maximize efficiency and effectiveness. The book supports the learners in their journey of learning. The author is an expert on design in the field of adult learning. He describes a simple design that can be used by any professional. He uses case studies, storytelling, and analysis to describe his approach to adult learning. It is written in an easy-to-follow way. It is an engaging and interesting book. A must-read for L & D practitioners.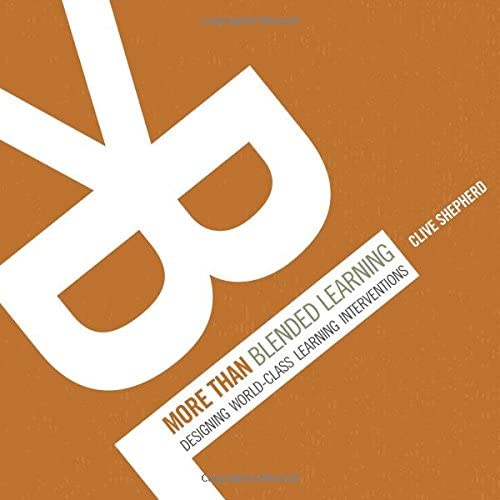 The kindle version of this book on Amazon costs $14.78 and the Paperback is priced at $29.17.
8. E-Learning by design by William Horton
This book is one of the bestselling books that help to create e-learning content and encompasses a range of learning activities. It is best for beginners. The explanation is simple and everything is explained right from the beginning. It gives an understanding of the e-learning industry and how to go about it. It offers a complete understanding of developing, creating, and implementing the e-learning program. It helps the instructors to prepare customized e-learning programs, develop meaningful & engaging activities, create online tests and assessments, implement programs, and design learning games and simulations. This book is an essential reference for anyone involved in e-learning design, development, and evaluation and both editions are indispensable for newcomers.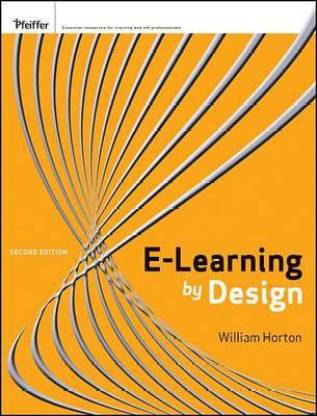 The customer review rating is 4.5/5
9. E-Learning and the Science of Instruction: Proven Guidelines for Consumers and Designers of Multimedia Learning by Ruth Clark and Richard Mayer-
This book is a research-based book for multimedia learning. It answers most of the questions that practitioners have like when and where to use animation, audio, picture, text, and other problems they face. Both the authors Ruth & Richard have used their expertise to design and develop and give effective classroom training. This book offers essential guidelines and information. It is an evidence-based e-learning design book to improve learning through the personalization technique. E-learning is continuously growing as an alternative to the classroom. So this book will help the designers of multimedia learning material to design and develop e-learning content effectively to engage the learners.
The Kindle edition of this book costs Rs. 4,183.00 and the hardcover cost Rs. 5567.21/-
10. ISD From the Ground Up: A No-Nonsense Approach to Instructional Design by Chuck Hodell-
This book is the best-selling ATD book for anyone who wants to learn about the ADDIE model for design and development. It focuses more on instructional design than e-learning. It mainly covers the four aspects- The basics of ISD, Working through the ADDIE Model, The Basics of Design and Lesson Plans, and Tips for Success. This book is found in the bookshelves of university students and experienced instructional designers. It covers the basics as well as the advanced principles important for working professionals. It updates the skills and practices essential for the success of curriculum developers.
The Kindle edition on Amazon costs Rs.3390.14/- and the paperback costs Rs. 5279.47/-
Conclusion
The list of the above-mentioned books will help you to get an overview of the basics as well as advanced skills of Instructional Design. I hope these books will help you to understand the impact of engaging content, how to develop this compelling content using various models and to think about developing a career in Instructional Design.
What is Instructional Design?
Instructional Design is the process of creating learning experiences by designing content and materials that result in acquiring new knowledge and skills. The assessment helps to determine what the learners know and what they should know and learn. The designers are responsible for creating, designing, and developing instructional material, guides, materials for presentations, handouts, and other materials.
The Future of Instructional Design–
ID helps to develop, design instruction, e-learning courses, on-demand successful solutions. With the technology change, the business world is changing rapidly. The agile, iterative models are becoming more popular. The learning products designed, developed, and delivered by Instructional Designers include online courses, video tutorials, manuals & learning simulations. With a certified course in Instructional Design, you add value to your resume to get noticed in the education as well as the corporate sector.
If you want to build a career in Instructional Design, there are several institutes that provide online certification courses.
Henry Harvin is one of the best educational academies that provides Online Certification Course in Instructional Design. It is ranked amongst the top 3 institutes.
The course includes 12 + projects+ learn to identify the learners and to customize training programs+ Constant learning to upgrade your skills for 1 year.
Course fee-Rs. 12500/-
The duration of the course is 16 hours by the best trainers who are subject experts. This course will help you to design a compelling curriculum that will benefit the employers as well as the learners.
The course curriculum includes 11 modules that cover all the important aspects of instructional design.
Key Benefits of CIDS Certification Course-
Learn to develop training materials to increase retention.
Develop your curriculum designing skills.
Acquires skills to make an attractive and exclusive training curriculum.
Identify the needs, goals, and desires of the audience.
Master the art of working in a time frame.
Learn core techniques to design effectively.
Job assistance and 1-year support of Writing Academy.
Receive training from certified trainers with multi-domain experience
100% placement guarantee
Certified course
E-learning access with regular boot camps, hackathons, and internship assistance.
For more details about the course visit- https://www.henryharvin.com/
Benefits of Instructional Design-
It sets clear and measurable goals and objectives.
It creates customized programs.
It creates consistency.
It simplifies learning for learners.
It encourages more student participation.
So, if you are creative, insightful, innovative, have good communication skills, research skills, people skills, time management skills & flexibility, you can opt to build a career in the field of Instructional Design. Get your profile distinguished with a Certified Instructional Design Specialist Course Certificate from a reputed institute and build a lucrative career for yourself.
FAQs
Q.1 What is instructional design?
Instructional design is the art of creating content that is compelling and engaging. It makes the information easier to learn or digest. It helps the learners to grasp the knowledge or in other words, it makes learning easy.  It ensures that knowledge is retained and the behavior is changed.
Q.2 What is the future of Instructional designers?
An instructional designer is in great demand and is hired by corporates to produce, design, and deliver content. Remote teaching and learning are the dominant trends. So Instructional design is a good career path for instructors.
Q.3 What is trending in instructional design?
Gamification is the application of game-like elements. It creates a more engaging and enriching educational experience. Leaderboards, point systems, badges are all examples of instructional design trending today.
Q.4 Can teachers become instructional designers?
Educators and Teachers have moved into the field of instructional design by developing skills in designing curriculum and assessments. Teachers can undergo online courses to enhance their skills that can add to their training experience.
Q.5 What are the three major components of Instructional Design?
Learning objectives, learning activities and learning assessments are the three main components of instructional design. It is known as the magic triangle of learning.
Q.6 Do instructional designers make good money?
The Instructional Designers make an average salary of $84,421 according to the e-learning guild. In India, the average salary is Rs. 6,19,328.