Beauty lies in the eyes of the beholder. This skin-deep beauty that beauticians enhance. Makeup covers flaws and highlights the beauty. Cosmetology is one field that never goes out of business. The makeup and beauty industry never sees a downfall. A career in cosmetology and beauty thus has greater scope. Since personal appearance is important. Hiring beauticians to improve the look of clients. Thus making them more confident in their field of work. Additionally, beauticians and makeup artists are self-employed. Paving way for budding entrepreneurs.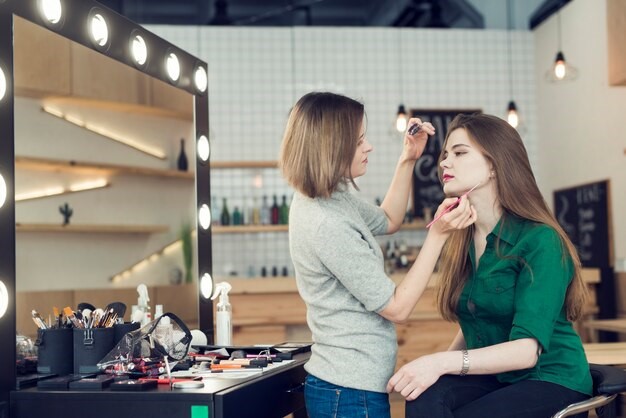 A guide into the beautician and makeup world
The demand for beauticians has seen growth in the past few years. By 2026, the demand will grow by 13 percent. More than 7 lakh people run this business. An upscale stylist can earn 900 rupees per hour. With proper practice, patience, and timely up-gradation. A career in this segment is rewarding. As per the Bureau of Labor Statistics. Hairdressers, hairstylists, and cosmetologists fall under the beautician's category. There are various courses to study beautician and makeup. With certificates, diplomas, and degree programs, early specialisation can happen.
Beautician and makeup courses: Eligibility
Courses can be certificates, diplomas, degrees, and masters. Depending on the area of interest, students take either of the programs. Eligibility criteria may vary.
Admission to certificate and diploma courses is always direct.
Entrance tests are not mandatory. The institute may have a personal interview. This is to understand the interest of the candidate.
But, for degree and master's programs, the criteria may vary. Taking these courses after the 12th standard.
The package includes Personal Grooming, Makeup, Skin Treatment, Hair Styling, Nail Arts, etc.
Beautician and makeup: course details
Beautician and makeup courses are after the 10th standard. Sometimes after the 12th standard. Find out the details of each of them below
After the 10th standard Beautician and makeup programs
Normally only certificate and diploma programs are available.
Certifications in Beautician Courses with the fee
| | |
| --- | --- |
| Course Name | Course Fees |
| Herbal Beauty Care Course | INR 6000 |
| Beauty Parlour Course | INR 10,000 |
| Beauty Care Course | INR 15,000 |
| Ayurvedic Beauty Care Course | INR 12,000 |
| Beauty and Make-up course | INR 20,000 |
| Certificate in Cosmetology | INR 15,000 |
| Certificate in Makeup | INR 18,000 |
| Certificate in Hair Styling | INR 15,000 |
| Certificate in Beauty Therapy | INR 20,000 |
| Certificate in Beauty Technician | INR 30,000 |
Diploma in Beautician Courses with fee
| | |
| --- | --- |
| Course Name | Course Fees |
| Diploma in Cosmetology | INR 20,000 |
| Diploma in Professional Makeup | INR 25,000 |
| Diploma in Hair Styling | INR 18,000 |
| Diploma in Beauty Therapy | INR 30,000 |
| Diploma in Beauty Technician | INR 25,000 |
| Advanced Diploma in Cosmetology | INR 20,000 |
| Advanced Diploma in Beauty Therapy | INR 15,000 |
Additional short term workshops are done
| | |
| --- | --- |
| Workshop | Fees |
| Hair Cutting Workshop | INR 18,000 |
| Professional Makeup Workshop | INR 25,000 |
| Waxing Workshop | INR 10,000 |
| Hair Coloring Workshop | INR 18,000 |
After 12th standard Beautician and makeup programs
Degree and master programs that help students are given below:
Bachelors in Beautician Courses with fees 
| | |
| --- | --- |
| Course Name | Average Fees |
| BSc Beauty Cosmetology | INR 80,000-2,00,000 |
Masters in Beautician Courses with fees
| | |
| --- | --- |
| Course Name | Average Fees |
| MSc Cosmetology | INR 30,000-50,000 |
| MTech Cosmetic Technology | INR 45,000 |
Subjects and syllabus 
All the various courses may have a different syllabus. However, the subjects taught do not differ much. Common subjects are as follows:
Skincare and Hygiene
Makeup Techniques and Consultation
Bleaching, waxing, threading, masques
Makeup Techniques for Special Occasions
Basic Haircuts
Cleansing and Toning Practice
Creative Haircuts and Hair Coloring
Massage Manipulation
Manicure and Pedicure
Blow Drying and Heat Styling
Hair Spa and Hair Treatments
Hair Fall Treatment
Dandruff Treatment
HD Makeup for Photography, Films, And Fashion Shows
Skin Treatment
Foot and Hand Spa
Client Management
Airbrush Techniques for Flawless looks
Corporate/ bridal/ party makeup
Brow shaping
Beautician Online Course
| | | |
| --- | --- | --- |
| Certificate Name | Duration | Fees |
| Beautiful You | 2 Months | INR 7,500 |
| Certificate in Personal Makeup by Bhaavya Kapur | 6 Week | INR 7,000 |
| Beauty Therapy Training Course | 4 Weeks | Free* |
| Certificate in Advanced Makeup by Bhaavya Kapur | 6 Week | INR 40,000 |
| Assistant Beauty Therapist – Introductory Course | 1 Week | Free |
| Professional Makeup Artist | 2 Months | INR 60,000 |
| Social Etiquette | 1 Week | Free |
| Professional Hair Stylist | 1 Month | INR 12,500 |
| Online Beautician Course | 45 Days | INR 7,000 |
Beautician and makeup: scope
Grooming in recent years has become an art. In today's time, people are conscious about their looks. Looks and beauty are important for Professional success. Due to this fact, the beauty and fitness segment becomes a career. With very little investment, armed with a degree, professional practice can get started. Diligence clubbed with professionalism, the candidate becomes a name to reckon with.
Professionals can opt to work in various areas. Spas, beauty parlors, salons, resorts, hotels, etc. hire professionals. A concrete degree goes a long way in shaping advisory firms. Firms that tell on makeup, hairstyling, skincare routines, and more are in demand. A confident entrepreneur thus shapes the confidence of its client. Institutes like Lakme academy and VLCC train the students. They also offer placements to their students inhouse.
Beautician and makeup: Jobs
Segmentation in the beauty area leads to job creation. The various jobs offered are:
Makeup artist – Prosthetics, high fashion, airbrushing, high definition, and light blending techniques. By meeting the needs of the client using these techniques. Above mentioned techniques need precision. Separate courses to learn their helps.
Cosmetologist – Skin, the largest organ of the body, is also the most sensitive. Cosmetologists do this study. Suggesting the client the facials that will suit their skin. Making a skin routine possible for their clients.
Hair Stylist – Hair shading, trimming, blow drying, styling, and hair extensions. Doing separate hairstyling courses to meet the requirements of clients. Hairstylists are always in demand as hair completely changes the aura of the person.
Nail Care Artists -Specialists of these types not only do manicures and pedicures. Offering services like nail extensions and medicines.
Manufacturing Sales Representative – Help reach the right product to the right customer. With knowledge in beauty, these professionals are of great help. Making the right brand available for customers.
Salon sales consultant – Off-shelf products are available at the salon. A salon sales consultant offers them to customers. To do that, a salon sales consultant must know all about the product, its ingredients, and the benefits.
Beauty magazine writer – Significant experience and name in the beauty segment. These are necessary for this area.
Fashion show stylist – Fashion show requires a different kind of hairstyling. Hairstyles have to suit the theme of the fashion show. Hence the need for these professionals.
Beautician and makeup: Salary
As a fresher, a beautician, and a professional can earn around 1 – 1.5 LPA. Experience clubbed with the skill set, the earning can go up to 3 LPA. Entrepreneurs after making a name for themselves earn around 5 LPA. Salon specialists in various salons by L'oreal or Lakme earn 5 LPA. makeup artists earn around 7 LPA.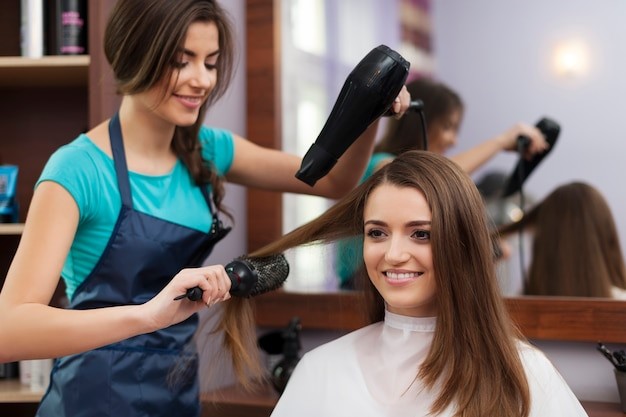 Hairstyling courses details
An inherent part of makeup is hairstyling. Hairstylists are in demand since they change the look of hair. Details are given below:
Introduction to Hairstyling 
| | |
| --- | --- |
| The Importance of Safety and Hygiene | Why We Practice on Mannequins |
| Types of Hair | Styling Products and Tools |
Braids 
| | |
| --- | --- |
| French Braid | Fishtail Braid |
| Dutch Braid | Flower Braid |
| Simple Updo Braids | Messy buns |
Classic Up do's
| | |
| --- | --- |
| Blow Drying Technique | Straightening |
| Wavy hairstyle | Red Carpet curls |
| Ponytail | Beach waves |
Bridal 
| | |
| --- | --- |
| Bridal Trial | Client Relationships |
| Extensions | French Twists |
Film and Fashion
| | |
| --- | --- |
| Messy Do for short hair | Ponytail with hair extension |
| Casual Evening Updo | Hollywood Style Updo |
| Hollywood Style Updo | Pin Up Rolls |
| Victorian period Updo | Floral Messy Buns |
Beautician and makeup: recruiters
B Blunt
Geetanjali
VLCC
Shahnaz Hussain
Javed Habib Hair and Beauty Salon
Toni and Guy
L'oreal
Lakme
FAQs
Q 1. To become a good beautician. What is the required skill set?
A stylist first has to be a good listener. Understand the needs of the client. So, communication and interpersonal skills are a must. Secondly, personality traits like creativity, innovation, self-motivation, and passion are necessary. Finally, a beautician works in a team. Hence, team skills like adaptability, precision, and decision-making skills are mandatory. 

Q 2. What is the scope of beauticians and makeup artists abroad?
The answer is simple, enormous. Overseas, all salons are unisex. Thus this serves as an opportunity to style both genders. Jobs like a manicurist, pedicurist, aromatherapist, masseur. Even a beauty consultant are the jobs offered. In the USA or even in Europe, Indians have a great scope. This is thanks to our technique of healing and repair using natural products. These services are a rage and in great demand. An estimation predicts that around 87 thousand new jobs are available. These are for makeup and beauticians.

Q 3. Can you throw some light on air-brushing?
Airbrushing is playing with colors on the skin. It sees a great demand in the bridal makeup sector. The specialty of this makeup is that you do not have to do frequent re-touchups. Therefore, makeup stays for the entire day. Since it uses silicon, the makeup becomes flawless. Hence, preferred by brides. 

Q 4. Can you give details of the stage makeup?
4 segments form the stage makeup. They are Cake Makeup, HD makeup, Greasepaint, and Special Effects. Let us understand each in detail.

Cake makeup – Popular as dry makeup. Products are available in powder form. But, when mixed with water the end result could be different.

HD makeup – When the shoot happens on an HD camera, the flaws and the pores of the skin become visible. Thus to cover these, HD makeup usage.

Greasepaint – The oldest form of makeup known to us. Since the makeup products are oily, hence the name greasepaint. 

Special Effects – Used to show special emotions like anger, age to name a few. 

Q 5. What do beauticians do?
A beautician dons many roles. They ensure the comfort and peace of the client. Cleaning the place before getting the client to the workstation. Talking to the client and understanding the needs. Analyse the need and accordingly suggest the treatment or routine. Take time out to explain the details of the procedure. Keeping in mind the comfort of the client. Performing various procedures as promised to the client. All in all, making the visit to the salon a good experience for the client.