Why Emotional Quotient could be the key to a successful organization
Emotional Quotient : Emotions are a core part of what makes us humane. No matter how organizations grow professionally, at their heart are people. People who can learn, grow and upskill themselves, improving their and the organization's performance.
Human Resource is a people's function, and people are an organization's biggest asset. An organization may have all the bells and whistles for technology, but at the crux of growth are humans and how the organization deals with them. We cannot separate people from their emotions and hence arises the need to understand the emotions of all the parties involved to keep the ball rolling.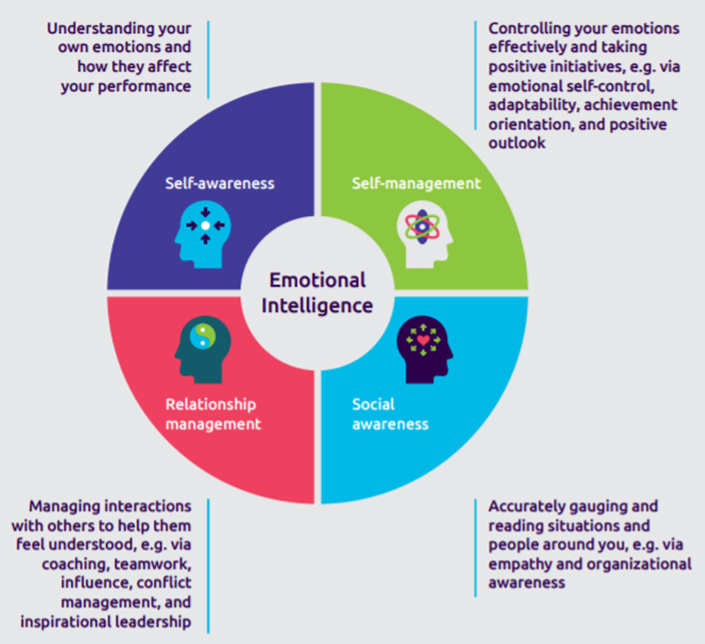 In his book Emotional Intelligence, author Daniel Goleman defines it as "the ability to identify, assess and control one's own emotions, the emotion of others and that of groups."
Goleman successfully developed a performance-based model of EQ to assess an employee's levels of emotional intelligence. He explained the five components of EQ and the areas of improvement as:
Self- Awareness
Self-Regulation
Self-Motivation
Empathy
Communication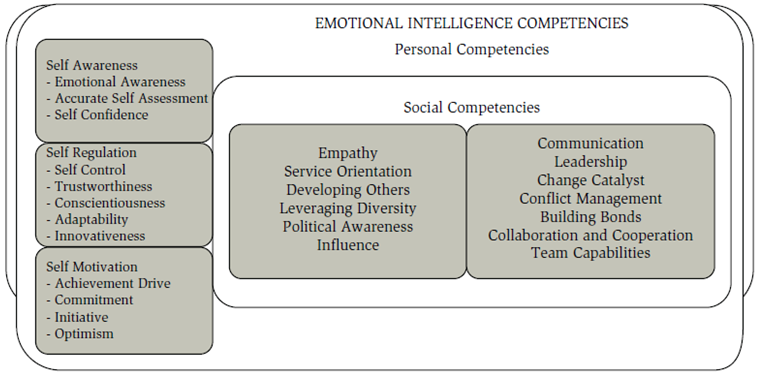 How Is EQ Relevant to HR Leaders?
So we've established that EQ is an essential skill from an employee perspective; let's understand the same from an HR/employer's perspective. As per studies carried out by Lopes, Cote, & Salovey (2004), EQ has been linked to improved organizational performance outcomes by effectively contributing to team effectiveness, better decision making, stress tolerance, interpersonal facilitation, and overall performance. From their 2005 studies, Ashkanasy & Daus suggested that better EQ contributes to effective leadership. With a better EQ, leaders inspire and motivate their subordinates and convey their emotions intelligently to communicate their vision effectively.
Unsurprisingly, EQ is interwoven into every aspect of human life. It enables us to practice motivation, confidence, empathy, and resilience in our daily life. While the management can rely on EQ to lead and collaborate with employees, managers can leverage EQ to engage, motivate and retain their employees. EQ thus forms the backbone of a healthy work environment by:
Create healthy relationships
Grow and improve
Collaborate and communicate effectively
Achieve goals
Further, emotional Intelligence will be the need of the hour, especially in a post-Covid era. A LinkedIn Learning 2020 Workplace Learning report backed by a Global survey stated that in addition to creativity, collaboration, persuasion, and adaptability, Emotional intelligence is one of the top 5 in-demand Soft Skills in 2020. No wonder organizations are keen to recruit talent who already possesses strong people skills to deal with any unforeseen circumstances the future may present.
What Are the Numbers Supporting This Theory?
Let's dive into some numbers to understand the impact EQ has briefly. As per Capgemini's Emotional Intelligence Research Survey 2019, Emotional intelligence will become a "must-have" skill in 1–5 years.
Fig3: Emotional intelligence will become a "must-have" skill in 1–5 years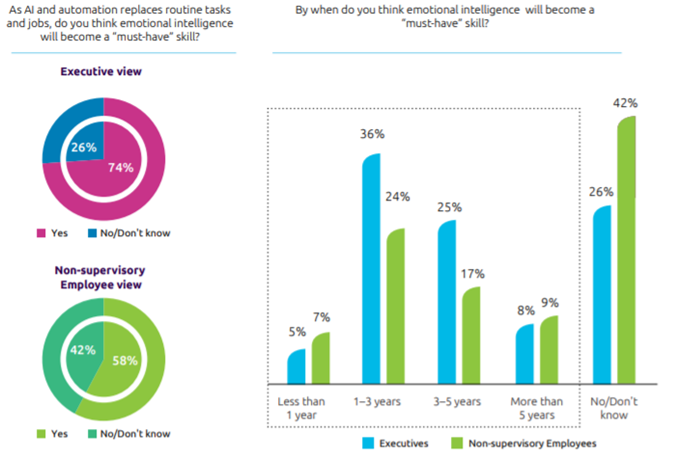 The same report also predicts that India will demand an 8.3x growth in demand for emotional intelligence skills across countries and sectors.
Fig4: Growth in demand for emotional intelligence skills across countries and sectors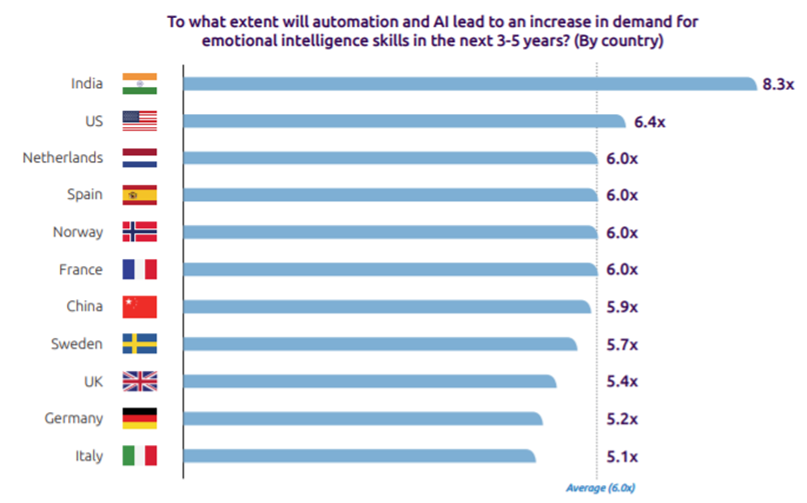 87% of Millennials today are motivated by the Emotional Intelligence of their leaders to help the company succeed.
37% of surveyed organizations use Emotional Intelligence assessments to help inform their leadership development programs.
According to the survey from Levo Institute, 80% of employees consider emotional intelligence crucial for developing their careers.
What Can HR Leaders Do to Boost Emotional Intelligence in the Workplace?
It's known that employees with a higher degree of emotional intelligence drive more significant organizational benefits. On average, 60% of organizations attain benefits above 20% by having highly emotionally intelligent employees.
This effort of practising EQ is a two-way effort. Donald Brown's built a classic inventory of about 500 behaviours and characteristics recognized and displayed. Based on this list, they identified four universal moral principles—integrity, responsibility, forgiveness, and compassion. Fig5 shows how employees rated CEOs on the same. Hence, both leaders and employees need to practice EQ effectively.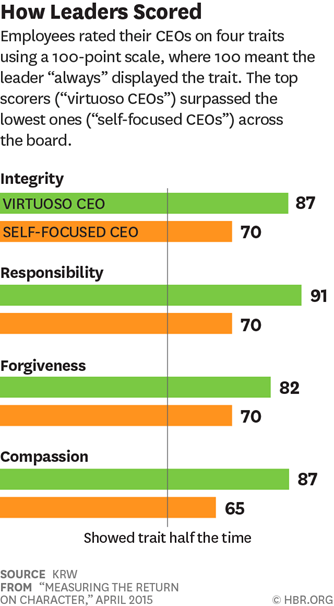 Let's understand a few practices by which HR leaders can implement practising Emotional Quotient at workplaces:
· Lead by example:
Leaders need to ensure that they lead from the front. They can contribute to the tone of the workplace by exemplifying EQ. HR leaders can further help inspire others and become the guiding force of an organization by practising self-awareness, regulating emotions, and showcasing positive social skills.
·       Train workplace leaders to hone their Emotional Quotient:
HRs can implement Learning and Development training sessions for leaders, managers, and employees. These sessions will impart the skills of active listening, problem-solving, conflict resolution, self-respect, and resilience. Employees empowered with these skills will enable them to leverage such stressful situations into opportunities for growth.
· Focus on mental health:
HRs need to encourage employees to maintain a work-life balance and ensure that their mental health is managed. When required, employees should disconnect from their relentless work schedule and take a break to nurture themselves. Creating a positive environment will ensure that employees can reconnect with themselves and flourish.

· Nurture employees' innate characteristics:
Every position demands a different skill set and a level of Emotional Quotient than others. It's also important to note that each individual offers a unique perspective and talent to perform at work. While some employees may exemplify better EQ qualities than others, others may only demonstrate specific aspects of it. HR leaders can encourage the development of EQ without forcing the same.
Conclusion:
In times of uncertainty and change, automation and AI also exert a profound impact on the workforce. These times ask for a new set of skills that a certain part of the workforce may not be equipped with.
Employers are now looking for adaptable, committed, open and flexible and persistent, productive, and resilient at work. They also want optimistic and empathetic employees, are active listeners and good communicators, and can successfully collaborate and manage stress and uncertain situations above all.
Hence, it's the need of the hour that HR professionals are well-versed in emotional intelligence and can also impart the same skills to their employees. This does not mean that being academically or emotionally intelligent isn't the only way to attain success. It means that workers need to strike the right balance of these skills and better understand themselves and their colleagues.
Emotional Intelligence is not a magic wand that will provide all the solutions and will directly make the organization successful overnight. But it will definitely give a strong foundation and ensure implementation of best practices, driving the organization towards the path to success in the future.