EdTech is an abbreviation for education technology, which refers to the technology that is committed to developing and implementing technologies in the classroom to create a more engaging and personalized learning experience.
With the advancement of technology and widespread availability of internet-based services, nearly every industry has seen significant shifts in recent years, and the education sector is no exception. The advent of education technology, often known as EdTech companies in India or Edu-Tech, has brought about an unmistakable revolution in the manner in which education is spread throughout the country, how deep it is, and how well it is done.
Without a question, the education system needed certain modifications and development now more than it had in the past. The advent of the Covid-19 pandemic has only accelerated this transition by instilling trust in the general public that learning is not limited to the confines of traditional institutions.
This is also one of the primary reasons why a majority of Edtech companies in India have experienced an increase in the number of users, investment, and scale, gaining unprecedented attention from investors, entrepreneurs, and other important stakeholders.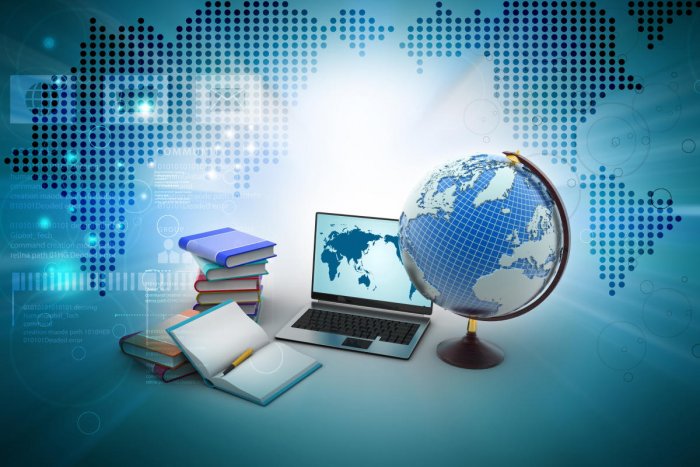 Top 10 EdTech companies in India
1. BYJU's
Byju's is among the best EdTech company in India that provides customized learning courses. Their goal is to turn learning into a fun experience for students through their interactions and 3D learning classes, which will help them achieve higher test scores in the future. Here, you can learn from some of India's most accomplished professors and advance your abilities. The way they have redesigned their curriculum to accommodate students who study from home and made their software user-friendly has given them an advantage over their competitors. Even though they began with Science and Math tutorials for middle school students, they have since extended to include additional target groups.
As part of a relationship with Disney, they have developed courses for preschool children under the name Byju's Early, as well as unique JEE and NEET, prepared materials in collaboration with the Aakash Institute of Technology. They also provide programs to help you prepare for the IAS exam. As a result of this, they have risen to the top of the list of educational technology businesses in India.
2. Henry Harvin Education
Henry Harvin is also one of the best Edtech companies in India and the most respected professional development organization in the world, with a strong emphasis on value generation. Its mission is to change the development of persons via the provision of exceptional training and services. They have over 100 courses that are available in both offline and online modes of delivery. They hire the top trainers in the field, and their course curriculum is the most up-to-date in terms of meeting the needs of today's work market.
The company collaborates with several prominent management and technology universities, corporations, and government organizations as a training partner and education provider for its students. Up until 2020, Henry Harvin had amassed a customer base of more than 300,000 individuals in 97 countries, which was dispersed around the globe. Its operational offices are located in San Francisco, California, and Delhi, National Capital Region (NCR) (India)
Over 200 online and classroom courses are offered by Henry Harvin in more than 97 countries throughout the world.
3. Unacademy
Unacademy is a Bangalore-based educational EdTech company in India that specializes in online learning. Although Gaurav Munjal originally started the company as a YouTube channel in 2010, the company was officially established in 2015 by Gaurav Munjal, Roman Saini, and Hemesh Singh. A network of more than 50,000 registered educators supports the organization, which also provides preparation materials for a variety of professional and educational admission tests. Unacademy lessons are delivered in the form of Live Classes, which are available for free or on a subscription basis.
A group of online learning and skilling platforms, such as Graphy, CodeChef, and Relevel, are brought together under the banner of the Unacademy Group. Meanwhile, Graphy is a cohort-based learning platform that enables media and content creators to grow their audiences while also monetizing their skills, and Relevel is India's first hiring tests platform that enables job seekers to demonstrate their abilities and secure employment in India's top corporations. In addition to being a top authority in data structures and algorithms, CodeChef is also a global programming platform. For aspiring programmers, the platform presents a series of programming contests and coding challenges that they can participate in.
4. Vedantu
Vedantu is also an Edtech company in India that allows professors to deliver online tuition to their pupils. It is an online learning system that aids students in understanding topics clearly through interactive live sessions, doubt clearing sessions, and a customized teaching pattern that is tailored to their needs.
It most importantly serves students in class 4 till 12 who are enrolled in the ICSE i.e. Indian Certificate of Secondary Education or the Central Board of Secondary Education. Current commercial activities include live online instruction in STEM, Hindi, English, Sanskrit, German, French, and Environmental Science, as well as social science and business courses. Students and teachers interact in real-time using the White Board Audio Video Environment (WAVE) approach for their one-on-one live sessions. According to the website, it also offers test preparation classes for the Indian Institute of Technology Joint Entrance Examination (JEE) Foundation, the National Talent Search Examination (NTSE), the National Eligibility and Entrance Test (NEET), and the Problem Solving Assessment (PSA).
5. Whitehat junior
It is one of the world's most popular educational technology platforms for children. They assist the students in learning logic, structure, and algorithmic thinking to construct websites and apps for their peers. Experts in the field will teach you how to code.
The software assists youngsters in learning computer programming and encourages them to develop games, animations, applications, and other interactive media projects. The startup employs a live one-on-one online teaching approach, as well as a curriculum that has been thoroughly researched. From data structure to app and game development, machine learning, and space technology, there is something for everyone here. It offers four levels of classes for pupils in grades 1-12, categorized as follows: beginner, intermediate, advanced, and professional. A total of over 7,000 teachers are currently registered on the platform of the Mumbai-based firm.
6. upGrad
Upgrad is a dynamic online platform that offers the greatest learning materials in a variety of programs across a wide range of industries. Their career coaches and student mentors will effectively assist you in advancing to your preferred position inside the organization. They will also serve as a source of inspiration and guidance during the duration of the program. A variety of activities, such as resume building sessions, mock interviews, mentorship from prominent industry professionals, customized feedback, employability assessments, and, finally, an exclusive upgrade career portal, assist the learners in securing employment.
UpGrad is motivated to provide quality knowledge to its learners by collaborating with world-class faculty and experts. This collaboration results in the most effective teaching and learning journey. This will allow the students to gain a better understanding of the real-world market scenario. They also assist students in preparing for their final interviews a day before they take place, and our learners find excellent employment options either on their own or through the companies that we bring on board as our placement.
7. Classplus
This is an EdTech company that allows tutors to manage their classrooms through an app. It helps them to create their learning apps by managing the parent-tutor communication, attendance, online tests, payment of fees, and others.
An online and mobile-based tutor enablement tool is developed by Class plus, which is intended to connect and engage tutors with their students and parents more effectively and efficiently. The performance of the students is tracked through the application, which also has a site of test and complete information on the progress of students that in turn allows tutors to concentrate on teaching and exams. The platform enables tutors and institutions to control their classrooms through the use of a mobile application. It assists individuals in developing their learning applications by handling attendance, parent-tutor contact, online assessments, payment of fees, and other aspects of their education.
8. Great learning
Great Learning is another EdTech company which comes among the best in India. Great Learning provides individualized live learning as well as world-class courses in data science, artificial intelligence, machine learning, cloud computing, cybersecurity, software development, and other topics. Great Learning is based in New York City.
As they are the biggest professional learning company of India, and also because they have a global presence in more than 160 numbers of countries, they are having a goal to make professionals all over the world proficient and ready for the future.
In the last seven years, they have been able to deliver more than 50 million hours of learning to professionals around the world, with thousands of them have been able to progress their careers at top firms such as Amazon, IBM, Adobe, American Express, Microsoft, Deloitte, Accenture, and many others. To date, they have delivered more than 50 million hours of learning to professionals all over the world.
9. Edukart
EduKart is an Indian EdTech company that offers courses in India and abroad, including MBA, MCA, BA, BBA, BSC, and other related fields of study. You can earn a diploma, a degree, or a certificate course from leading universities and colleges all over the world.
Several national and international universities, such as the Narsee Monjee Institute of Management Studies – School for Continuing Education Bharathi Vidyapeeth, the Indian School of Business, the University of Petroleum and Energy Studies, Northwood University the London School of Business and Finance, and Concordia University Chicago, have partnered with EduKart. Those who get degrees from Indian universities have their degrees recognized by the University Grants Commission, and those who earn degrees from international universities have the same value as those who earn degrees from traditional campus-based institutions.
In addition to the Internet and Mobile Association of India, the Computer Society of India, the Retailers Association of India, Vskills (Govt. of India), Enhelion, and the Global Institute of Information Processing (GIIP), among others, provide certificate courses. EduKart offers job placement services through its online employment portal, which is accessible from the company's website.
10. Doubtnut
Doubtnut is an educational technology platform that helps students in grades 6-12 with IIT-JEE and NEET preparation. It instantly provides video solutions to all of your questions and concerns. It is a one-stop complete solution for physics, math, chemistry and biology. It also is an educational app that is built on a completely original concept.
If a student has a question about a math problem, he or she can take a photo of the problem and upload it to the website, where he or she will receive a video solution to their query within a few seconds. Their Mathematics courses for NCERT (classes 6-12) and IIT-JEE are available in a variety of formats, including video lectures, booklets, and PDFs. Doubtnut is an amazing tool for IIT JEE preparation as well as for clearing up any questions you may have about board exams that can be done through the different sample exam questionnaires available for JEE Mains, JEE advanced, NEET as well as boards along with various study materials for reference.
11. Pesto:
Pesto provides 12 weeks, intensive training in coding. Their boot camps offer to acquire complete knowledge in JavaScript. It develops the readiness in Indian techies to face Silicon Valley.
12. Mindlogicx:
MindlogicX is an ed-tech company that believes in" Knowledge engineering". They are specialized in delivering various quality assessments and innovative learning methods through meticulous techniques.
13. Meritnation:
Meritnation is an e-learning platform for students from Grade 1 to 12, that will meet the needs of students from all leading curriculum. They have their unique method of teaching and assessing the students.
14. masai:
masai teaches coding to its candidates. They are available as full-time/ Partime and as online/offline too for 30 weeks. To provide ample opportunities they have the ISA (Income Share Agreement) which helps the candidates to pay their fee once they get into their job.
15. Practically:
Practically believes in experiential learning for Grade 6 -12 students. It is a self-learning app, that provides fun learning. Their 3D library brings the learning alive.
16. testbook:
testbook is a place where they will live coach you for the Railways exam, banking, civil services, SSC, defense exam, teaching exam, and other government-related exams. They have a question bank as their treasure chest.
17. EasyShiksha-
EasyShiksha offers certified programs in various sectors to develop future leaders, managers, and entrepreneurs through world-class training. They act as a career helper too.
18. Toppr –
Toppr is a student-centric, after-school learning program for students Grade 5th -12th. They provide 360° learning through the latest advanced technology. They also support the board exams, olympiads, and competitive exams like IITJEE and NEET by creating personalized learning paths for the candidates.
19. Adda247 –
Adda247 is an online program to guide the aspirants of bank and government jobs. They provide training for the complete cycle from preparation till the selection.
20. Lido –
Lido is an e-learning platform, where kids will learn Math, Science, English and, Coding in small groups for Grades KG to 12. They get personalized attention from their teachers and they learn from their peers too. The Lido ACE program assures a money-back guarantee if the child doesn't show progress through their course.
21. GlobalGyan –
Globalgyan aims to build leadership qualities. They provide them through G.A.M.E. ( GlobalGyan mobile app )that enables interactive learning journeys for our participants. Their customized notifications, byte-sized learning, and practical viewpoints make the learning journey a memorable one.
22. iDream Education-
iDream Education wants to break the barrier between social-economic background and education. They want to give wings to the dreams of kids who have the thirst for knowledge through their Tablab, PC Free Smart class, etc. They aim to impart fun learning to all kids from different backgrounds.
23. CampK12 –
CampK12 is an online school that imparts Coding, English, and Math for ages 5 -18. They believe in personalized training in 1:1 classes or with friends too with trained teachers. They provide interactive fun-filled virtual classrooms.
24. Quizizz –
Quizizz is an online platform that engages the students in all core subjects in the form of quizzes. It is a self-paced learning app. They provide many teacher resources and free tools to teach and learn.
25. Noon –
noon academy strongly believes in "Student- first". Through innovative teaching methods, they empower the students. Here the classes are conducted in groups.
26. PlanetSpark –
Planetspark is a personalized platform where they provide 1:1 classes for Grade KG – 12. Their main focus is to develop the child's English speaking and creative writing skills. The curriculum is tailor-made based on the needs of the child.
27. Teachmint –
Teachmint put forward the latest techniques in creating conducive classrooms for the students and supporting teachers with the latest digital devices to create a smart classroom. They provide K -12 online tuitions, assessment preparation, and other extracurricular activities.
28. WeSkill –
WeSkill is an online platform that develops extra-curricular activities like Carnatic music, Western dance, Chess, Indian Classical singing, Kathak, Etc through their expert tutors. They believe in holistic education.
29. WiZar.io –
wiZar.io has their LMS ( Learning Measurement system), with the latest AI technology that will measure the learning and the learning gaps for the middle – school students. They provide actionable insights and real-time progress reports to bridge the gaps.
30. FullishStudy –
FullishStudy is an online platform that provides training for competitive exams, government exams, UPSC CSE/ IAS, etc. They have quality online content and their training makes the concepts easy for the candidates.
31. MyCaptain –
MyCaptain is an edtech company that offers online courses in different fields like, Technology, Business, Creative and PRO courses. They have skilled industry experts and mentors to make the aspirants take a cakewalk in their dream careers.
32. Scaler Academy –
Scaler Academy is a tech-versity company that offers intensive computer training in various computer courses. They have skilled mentors and subject matter experts from various top industries like Facebook, Amazon, Google, etc to develop the readiness in their respective jobs.
33. Simplilearn –
Simplilearn has their well-structured training for MBA, PG program in cloud computing, and Data Science, Digital supply chain market, Business analysis, Digital marketing, etc. They have world-class trained professionals to have a comfortable learning journey.
34. TALENTEDGE –
TALENTEDGE offers 60 + online certifications and degree courses like Financial Management, Human resource management, Marketing Strategy, etc. They create lively classrooms with interactive sessions by renowned faculties across the globe.
35. InterviewBit –
InterviewBit is an online platform to hone your skills related to uplifting your career related to technology jobs. They ensure we land in our dream job through their trained teachers, Compilers, and question bank related to interview.
36. Embibe –
Embibe offers training through Artificial learning and Machine intelligence to enrich the learning experience. They train the students for various competitive exams like IIT CEE, CET, AIPMET, etc.
37. Cuemath –
Cuemath is a leading online platform to teach Math and coding to Grades K -12 kids. They follow a global curriculum with live sessions and personalized attention.
38. Next Education –
Next Education caters to all needs of the Students for Grade K -12, through the SAAS technology.
39. CultureAlley –
CultureAlley is an online platform for people who would love to learn languages like Spanish, Mandarin, Hindi, Punjabi, etc through audio-video lessons.
40. Dost Education –
Dost Education is an unlucrative e-learning program that supports parents in rural areas to develop their child's early childhood education.
41. collegedunia –
collegedunia is an educational platform that guides the students regarding higher education like information on colleges across the globe and how to approach those institutions, Assessment preparations, campus insights, etc.
42. HumbleSchool –
HumbleSchool supports 7 to 12 years old to develop curiosity, Scientific knowledge, and deeper thinking about concepts.
43. Winuall –
Winuall is an online informative platform specialized in E-learning, tests, quizzes, and study materials for competitive exams.
44. Alo Learning –
Alo Learning is an online platform that prepares school kids to face the real world. They aim to develop holistic development in a child and the readiness for their successful career.
45. Aptuslearn –
Aptuslearn focuses on quality education for the aspirants and the professionals in the fields like data, cloud computing, artificial intelligence, and decision sciences. The certified courses are taught through the latest cutting-edge technologies.
46. askIITians –
askIITians is an online tutoring platform for the IIT, JEE, NEET aspirants, and board exams. They have a bunch of question papers to enrich their courses.
47. Careerpotli –
Careerpotli acts as a career guide to the students. They help the students to hone their skills based on their areas of job interests.
48. Boardinfinity –
In Boardinfinity the top industry coaches, guide the job aspirants in data science and digital marketing through their focused training.
49. Ekeeda –
Ekeeda is an online platform that provides the best online programs and exam preparation for engineering students through their virtual programs and cutting-edge technology.
50. flipClass –
flipClass provides online tuition for Grade KG -12 by passionate teachers in the comfort of their homes. The parents can select the tutors based on their child's needs.
51. Entri learning app –
Entri learning app is a one-stop app for learning and preparing for government exams and spoken English classes. The classes are available in the local languages too.
52. Fyraway Education –
Fyraway Education focuses on teaching the various tech skills in a fun and exciting way to be followed by the kids.
53. GETMYUNI –
GETMYUNI is an online platform that supports students to select the right college to reach their dream job. They give a clear picture about the educational institutions too. Their web page is filled with various courses available across the world.
54. IMARTICUS LEARNING –
IMARTICUS LEARNING provides experiential learning in AI, Financial services, Business analysis, etc through industry stalwarts by using the latest technologies.
55. hurixdigital –
hurixdigital is an ed-tech company that provides solutions to educational institutions to deliver an engaging, holistic learning experience through the digital platform.
56. WizIQ –
WizIQ provides eLearning tools and features that help to create the physical classroom experience online. It helps to create self-paced courses in no time.
57. Cybervie –
Cybervie offers cyber security training at three levels. They train the candidates by giving real-life scenarios and solutions to them.
58. DLP INDIA –
DLP INDIA is a leading online education provider where that offers services to students regarding distance education courses and skill development courses affiliated to highly reputed educational institutions in India and abroad.
59. EDULYX –
EDULYX offers a secured video conferencing platform to have engaging classrooms. They have designed customized assessments and assignments to measure the progress of each participant.
60. EduRev –
Edurev supports the students' school exams and Entrance exams like NEET, JEE, CAT, GMAT, etc through their videos, tests, and notes.
61. eduZilla –
eduZilla provides a SAAS-based ERP tool for training various businesses like professional source providers, Coaching classes, Hobby classes, etc. They train to smoothly scale up the business to multiple branches.
62. Egnify –
Egnify is an online platform that follows cloud-based assessment and learning analytics to teach from anywhere, to anyone at any time.
63. ConveGenius –
ConveGenius provides a personalized classroom for kids to bridge the learning and skills gap.
64. Codingal –
Codingal is an online platform to teach the fundamentals of coding for kids, by expert instructors.
65. mPower –
mPower provides personalized learning paths to kids with their blended classrooms with virtual learning.
66. edutinker –
edutinker supports the tutors with user-friendly methodologies to handle their classes with ease.
67. forsk coding school –
forsk coding school provides top quality training in data science, AI, ML, DL and, web development. The passionate mentor team assures a quality career in the industry.
68. FrontBench –
FrontBench offers guidance and mentorship to students in Tier 2 and Tier 3 colleges to excel in their domain.
69. Gurujiworld –
Gurujiworld focuses on a quality e-learning program for Tier 2 & 3 students studying in the state board and vernacular (Marathi) language.
70. Handa ka Funda –
Handa ka Funda provides online coaching classes for CAT preparation at an affordable price.
71. iAugmentor –
iAugmentor is an online platform that offers customized training to students through cutting-edge technology.
72. jigsaw –
jigsaw offers various courses like data science, cloud computing, Machine learning, digital analytics, etc.
73. Jungroo learning –
Jungroo learning provides a personalized learning experience for Math through AI algorithms.
74. LEVEL –
LEVEL is an online platform for tuitions and they also have 600+ courses in various categories like MBA, Arts, Competitive exam, Professional courses, etc.
75. Melvano –
Melvano is a learning app that provides training for JEE & NEET aspirants.
76. leverage edu –
leverage edu is an ed- tech company that supports the students by guiding them in their higher education and career path.
77. IndigoLearn –
IndigoLearn is an ed-tech company that is a one-stop place for CA, CMA, and CS courses through its interactive videos.
78. MyPeegu –
MyPeegu aims to monitor and mentor the child's behavior. The tool observes not only the academic performance but also the behavior of the students.
79. Thinkerbell Labs –
Thinkerbell Labs is an ed-tech organization that helps to develop education in the visually impaired with their innovative ideas.
80. Eruditus –
Eruditus is an ed-tech platform that offers executive programs in strategic management. The program helps to equip the professionals to bridge the gap in Strategic planning and execution.
81. Lead –
Lead is an ed-tech company that provides an international standard of education through technology-led innovations, from Pre-primary till High school.
82. applycourses –
applycourses is an ed-tech platform that guides the student to select the right course, institutions, scholarships, etc to study abroad.
83. Edwisely –
Edwisely is an ed-tech company that aims to empower engineering students by strengthening their passion and preparing them to achieve their goals.
84. Logiqids –
Logiqids provides training to develop logical skillsets in kids from Sr.Kg to Grade 9, through the latest technologies.
85. AttainU –
AttainU provides a stack of web development courses, with the choice of the candidates who can pay the course fee after their placement.
86. Geekster –
Geekster offers online 5 months (Part-time) courses on Data structures and Algorithms, Full-stack web development, Core CS concepts, etc.
87. Zen Class –
Zen Class provides online Full stack developer courses for students and working professionals. The courses are available in English, Tamil, and Hindi.
88. ask.Careers –
ask.Careers is an ed-tech company that offers various courses like 4-in-1 professional diploma in Banking, financial services and insurance, diploma in digital marketing and Certificate in Business English.
89. Kopykitab –
Kopykitab provides live classes for various professional courses, higher education, and competitive exams, etc.
90. intellipaat –
intellipat offers certified online courses and diploma programs to uplift the candidates' career and their skills.
91. Skillsanta –
Skillsanta is an online platform to guide students to select the right course and upgrade their skills.
92. Talentick –
Talentick portal guides the students regarding competitive exams like GRE, GMAT, CAT, etc.
93. INTERVIEW BUDDY –
INTERVIEW BUDDY prepares the students to face the interview confidently. They conduct mock interviews to prepare and practice and have first-hand knowledge about attending the interviews.
94. iDreamCareer –
iDreamCareer is an ed-tech company that guides students at every step of their learning journey from Gr9 till Gr 12 to select the right course, and later to select the best institutions to study abroad.
95. iNurture –
iNurture is an ed-tech firm that imparts industry-readiness in new-age job aspirants through their live projects, AI technology, industrial visits, and career placement.
96. ClassKlap –
ClassKlap is a learning app that provides seamless education. They follow the NEP curriculum and they have the Meritninja program for Grade 1 -5 and the Avanti program for Grade 6 -12.
97. Ahaguru –
Ahaguru provides live classes to IIT JEE, NEET, ICSE, and CBSE by the best professors. They provide videos, printed materials, and a personal mentor.
98. Study'n'Learn –
In Study'n'Learn, students of Grade 1 -12 will explore their learning through high-definition video lessons, interactive tools, a Question bank, and a dedicated mentor to guide them academically and psychologically.
99. EXTRA MARKS –
EXTRA MARKS is a learning app that provides study materials for K-12 boards, JEE, NEET, SAT, and TOEFL, etc. Students can study at their own pace. They have live classes too.
100. Valued Epistemics –
Valued Epistemics provide online training for GRE ( Graduate Record Examination) through their dedicated mentors to monitor and motivate the students.
Conclusion
The above mentioned are the top 10 EdTech companies in India which proves to be among the best for education. The primary goal of establishing Ed-tech enterprises is to make education more straightforward, creative, and accessible to all students and adults. In India, we can notice an exponential increase in the number of people who utilize the internet. The Indian government has also launched the 'Digital India' program to improve the quality of education in the country through the use of the internet.
FAQs
Q1. What do EdTech companies do?
As the name says, Education technology provides learning or education to students and professionals through technology such as online programs and system.
Q2. How big is the EdTech market in India?
The EdTech market was worth of 2.8 billion in the year 2020 which is expected to increase.