Diploma in Education: For many people, teaching is a passion. To become a teacher one has to do the D.Ed program. This program is necessary for getting jobs in government schools. D. Ed or Diploma in education is done by individuals with an interest in the education field. D. Ed courses can be taken up by individuals who can teach in elementary schools. The role of a teacher is important. It is a teacher, who shapes and molds the future of the country. So, to teach and earn, D. Ed is the program one should opt for. The details of the D. Ed course are given in this article.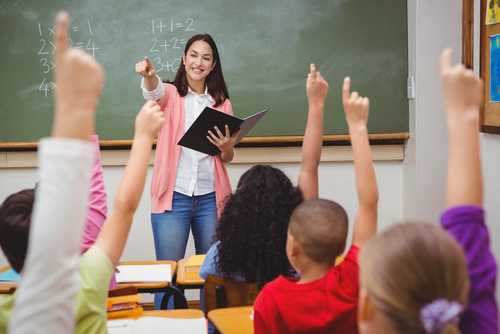 D. Ed course, in a nutshell
The D. Ed course can be pursued by candidates after the 12th standard. A D. Ed aspirant can be either from Science, commerce, or arts. The D. Ed course is for 2 years. The D. Ed program is an undergraduate course. There is no specific entrance test for the D. Ed course. Though a few popular entrance tests are CTET and state-wise entrance tests. Admission to any college offering the D. Ed is very simple. The aspirant has to fill in the basic details required along with the application form. The application form requires basic details, qualifications, and experience if any to be filled. 
The aspirant for the D. Ed program must have cleared the 12th standard exam with a minimum of 50 Percent. Sometimes the course is also done by students after graduation. For the admission process in the D. Ed program the 12th standard, or the graduation degree from a recognised university is mandatory. The D. Ed program can be done in either full-time, part-time or distance learning. The choice of mode of the program depends on the aspirant. In case the aspirant is a graduate and teaching, then the D. Ed is required. In such a scenario, the aspirant can opt for either a part-time or distance learning program.
The fee range is from 15 thousand to 1 Lakh per year depending on the college infrastructure and facilities. An aspirant for the D. Ed program must have a few skill sets. Communication skill is an important skill set. The teacher has to make the student understand concepts and theory. In order to do that, good communication skills are very important. A teacher has to inculcate discipline and order in students. To do that an aspirant must have instructional skills. The teachers have to manage in a class. Along with it, a teacher has to coordinate with other teachers. Management skills come in handy. Leadership skills are important to not only motivate students but complete assigned tasks.
D. Ed Distance learning mode details
As discussed earlier, the D. Ed program can opt-in to the distance learning mode. Many colleges promote distance learning since constraints of the number of seats get eliminated. Distance learning becomes a win-win situation for the aspirant as well as the college. The distance learning program may extend to 2 years. Various colleges and institutions have their own platform on which aspirants are taught. An aspirant must have finished the 12th standard for a recognised university and with a minimum of 50 percent. Methods of teaching, literature, Teacher identity, school culture, and educational psychology are a few subjects that are taught. In all the D. Ed with distance learning encompasses all subjects that are taught in full-time or part-time courses.
D. Ed syllabus year-wise
Year I
Subjects
Description
Childhood and the development of children
Meaning and characteristics of child development understand various aspects of child development and growth enable students to understand child behavior understand the development needs of childhood
Contemporary society
Nature and Composition of Indian Society: hierarchical multilingual, multi-religious, multicultural societal Challenges in India
Towards understanding the self
Concept and Development of SelfFactors Affecting Development of SelfFactors Affecting Personality DevelopmentLife Skills: Concept and Development
Pedagogy of English language
Place of English language in the curriculum: its importance, objectives and principled language Skills: Listening, Speaking, Reading and WritingLesson planning and material development approaches of teaching the English Language
Year II
Subjects
Description
Cognition, sociocultural context
Social Change: Meaning and ConceptCulture: Concept, Cultural Differences and its influence on EducationSources of Value EducationCauses and effects of social change
Guidance and Counseling
Guidance: Concept and its need at elementary level areas of GuidanceCounseling: Meaning and Difference between guidance and counseling behavioral problems with children
Leadership and change
Leadership: ConceptLeadership StylesTeam BuildingCommunicationBarriers to effective communicationEssential Communication Skills for Teachers
Pedagogy of environmental studies
Concept and objectives of Environmental StudiesImportance of Environmental EducationEVS curriculum at primary level developing an EVS kit- its importance and usage
School health and education
Concepts of health and well-being and its importance various Aspects of HealthPersonal Hygiene and its importance physical EducationSafety Education
Fine arts and education
Understanding Arts and Art EducationPlanning and Organization of Art ExperienceVisual Arts and CraftsContinuous and Comprehensive Evaluation in Art EducationImportance of Art Education at primary level
Subjects covered under the D. Ed course
The subjects taught may differ in a few colleges. A few basic subjects are
Childhood and the development of children
Contemporary society
Education Society
Towards Understanding the self
Pedagogy of English language
Mathematics education for the primary
Proficiency in English
Work and education
Cognition sociocultural context
Teacher identity and school culture
Leadership and change
Pedagogy of environmental studies
Diversity and Education
School Health and education
Fine arts and Education
Comparative study between D. Ed and B. Ed
A B. Ed is a postgraduate degree to be completed after D. Ed. A D.Ed holder qualifies to work in nursery school. A B. Ed degree is a graduate who can teach in school and colleges. They can teach only till class 12. A B.Ed degree can bring forth more job opportunities as compared to a D. Ed degree. Salary-wise too B. Ed gets better remuneration comparatively.
Research and development agencies
Publishing houses
Educational consulting centres
Education department
Employment roles after D. Ed
Education counsellor – The counsellor assists and guides students to understand the area of liking. They help in career guidance from the options available or selected. Sometimes a counsellor goes beyond the line of duty and helps students overcome emotional setbacks.
Article writer – Writing articles that are published in various mediums is an option. This career option is chosen by creative people with a flair for writing.
Librarian – A library is a place of vast knowledge. Keeping and managing a library is done by a librarian. They ensure that reading becomes a pleasant experience for people.
Home tutor – Home tutors have more impact on students than classroom teaching. Home tutors have become more popular in today's time due to the vast syllabus and tough subjects
Teacher – People with a passion for imparting knowledge, teaching, and helping students grow become teachers. Teachers play an important part in the development of society.
Teacher assistants – These are people required to carry the record to the attendance of students, facilitating between students and parents. They keep the progress of students and give constructive feedback.
Scope and placements after completion of the D. Ed course
Completion of the D. Ed course is a stepping stone in the field of teaching. Teachers are truly the backbone of any country. Society at large functions according to the teaching by the teachers. They truly are the sculptors of the younger generations. The employment regions are as follows:
University
Colleges – both private and government aided
Library
Content writing – include writing the chapter in the textbooks as per set standards. The language has to be simple and easy to grasp
Teaching institutes
Schools
Museum
Salary expected after completion of the D. Ed course
Education developer – works toward organisational effectiveness and human development. The expected salary is 70 thousand.
Home tutor – teaching subjects at home by making them very simple to grasp. The expected salary is 13 -14 thousand
Secondary school teachers – teach authorised syllabus. Work in the field for the longest time. The expected salary is 25 thousand
Education coordinator – Gives comprehensive feedback. The expected salary is 21 thousand
Article writer – writing and publishing articles that are easy to grasp but very interesting. The expected salary is 18 thousand
Associate professors – Teaching in seminars, are responsible for conducting research, and student activities that are to be supervised by them. The expected salary is 28 -30 thousand
Assistant professor – Planning and managing courses that are designed for the specific needs of the students. The expected salary is 43 -45 thousand.
Conclusion
To improve the quality of education, there is an ever-increasing need for qualified teachers. The D. Ed course qualifies a student with the right attitude to teach to perform exemplary. An ideal tutor nurtures unique talent, encourages a student in difficult times, and checks the progress of the student. After completing the D. Ed course, the future prospects are immense and lucrative. The job opportunities are rising exponentially and the teaching sector is blooming.
FAQs
Q 1. What preparation must be done for the D. Ed entrance test?
Though the entrance tests are not mandatory, it is always good to be prepared. Know the syllabus beforehand. Most of the questions will be from NCERT books so prepare thoroughly. Analyse your weak and strong focus areas and prepare accordingly. Preparing a timetable for every week helps go a long way to clear entrance tests with confidence. It is always a good practice to solve and check previous year's papers.

Q 2. Should D. Ed be considered as graduation?
D. Ed is a diploma course. It is also seen as a certification. Certification is different from a degree. Hence the D. Ed certification does not testify as a degree.

Q 3. Is B. Ed considered as a graduate degree?
Certainly, It is a course to be done after the 12th standard. It is 3 years in duration. It opens better career opportunities. The B. Ed course is designed as an undergraduate course. Just treated as a graduate degree.

Q 4. What is TGT and how to apply to this TGT?
TGT stands for trained graduate teachers. This program enables a teacher to teach in army schools, Kendriya Vidyalaya, and teach at higher levels. The aspirant has to complete B. Ed degree before applying for it. The teachers must be able to teach in Hindi as well as English. There are entrance tests for this.